Epstein Becker Green's Employment, Labor & Workforce Management practice is one of the largest and most respected in the United States, advising domestic and global businesses of all sizes. We've handled every problem that can arise in the workplace, not just once or twice, but dozens of times. Our lawyers eat, breathe, and sleep workplace law, building a depth of knowledge and experience unheard of at other firms.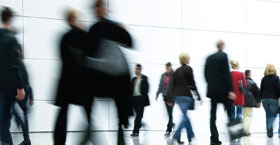 From the gig economy to the #MeToo movement to artificial intelligence, the American workplace is evolving at unprecedented speed. At Epstein Becker Green, we focus on these changes every day, helping you manage workplace risks and protect your company's reputation, productivity, and bottom line. We regularly advise and represent companies across all industries, and have a particular focus on financial services; hospitality; retail; technology, media, and telecommunications; and the full spectrum of health care and life sciences organizations.
Your Workforce. Our Business.℠
Why You Need Our Employment, Labor & Workforce Management Practice
Our solutions are tailored to your business needs. Hospitals have different labor issues than hotels; tech employees expect different benefits than sales clerks. Because we've been in hundreds of workplaces, we know the language, culture, operations, and compensation structures of each industry, as well as the business goals that often drive employer-employee relationships. We can quickly pinpoint where problems may arise and resolve conflicts in and out of court.
Our advice is ahead of the curve. We draw on diverse experience in law, business, and government to help you see around corners and plan for the future. Many of us are former government officials who've helped shape and enforce labor and employment laws. As thought leaders in this space, we frequently share our knowledge with clients and friends through annual government briefings, weekly video updates, industry-focused blogs, and more.
We bring a wealth of government experience to the table. Our attorneys have former policy and enforcement experience at:
Equal Employment Opportunity Commission
National Labor Relations Board
U.S. Congress
U.S. Department of Labor
U.S. Department of Justice
The White House
State and local agencies regulating labor-management relations
Our practice and lawyers are nationally recognized. U.S. News – Best Lawyers "Best Law Firms" 2021 ranks us nationally in Tier 1 for our employment law (management), labor law (management), and litigation (labor and employment) capabilities (and nationally for our employee benefits (ERISA) capabilities). Chambers USA: America's Leading Lawyers for Business (2021) recognizes our labor and employment abilities in a number of our offices through client feedback and peer review, and Vault, a career information website, ranks us among the top 15 "Best Law Firms for Labor and Employment Law" (2021) out of more than 200 firms surveyed. The Legal 500 United States (2020) recommends us in such areas as employee benefits, executive compensation, and retirement plans (design); labor and employment disputes, including collective actions (defense); labor-management relations; and workplace and employment counseling. And a number of our employment, labor, and workforce management lawyers have been ranked by Chambers USA, The Best Lawyers in America, The Legal 500 United States, and Super Lawyers, among other publications.
Download our brochure to view a full description of our Employment, Labor & Workforce Management services.