Epstein Becker Green's Employment, Labor & Workforce Management practice is one of the largest in the United States limited to the representation of management, as listed in Workforce Management magazine's most recent ranking of the top 10 U.S. employment law firms. We take a personalized approach to our clients, providing services that are tailored to, and focused on, meeting all their labor and employment law needs.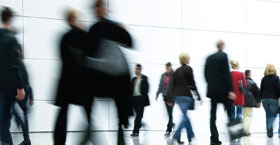 The firm offers advice and representation to companies across various industries, with a particular focus on financial services; hospitality; retail; technology, media, and telecommunications; and the full spectrum of health care and life sciences organizations, including hospitals and health systems, biotechnology and life sciences companies, health plans and health care insurers, pharmaceutical and medical device manufacturers, academic medical centers, and others.
Your Workforce. Our Business.℠
Epstein Becker Green's highly experienced lawyers handle virtually every aspect of employment, labor, and workforce management law, and our exceptional skills have been recognized by others:
Our employment law (management) and labor law (management) capabilities ranked nationally in Tier 1 by U.S. News – Best Lawyers "Best Law Firms."
Our employee benefits capabilities ranked among the best in Chambers USA and nationally in U.S. News – Best Lawyers "Best Law Firms."
Our immigration lawyers are ranked nationally by U.S. News – Best Lawyers "Best Law Firms" and recommended for their work on a national level by The Legal 500 United States.
Chambers USA has ranked our labor and employment capabilities in a number of our offices through client feedback and peer review.
Epstein Becker Green's work with multinational employers includes providing counsel and representation to many foreign employers with operations in the United States. Members of the firm have counseled and presented papers before international bodies as well as numerous trade and professional associations in Europe, Asia, and Latin America. For more information, please see our Foreign Multinational Counseling and Litigation page.
Download our Employment, Labor & Workforce Management, Employee Benefits, and Immigration brochures.