Legal disputes are a fact of life in today's economic and regulatory environment. The litigation team at Epstein Becker Green partners with you in navigating your business through this inevitable challenge. Whether you are prosecuting claims to enforce your rights or defending against claims brought against you, we will work with you to formulate, and then implement, a litigation strategy designed to protect your business interests and achieve your business goals.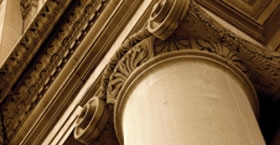 First and foremost, our litigators are courtroom lawyers. We know how to marshal evidence and present your strongest position in pre-lawsuit negotiations. If a satisfactory resolution cannot be reached amicably, we have the depth of experience to represent you forcefully and effectively in the courtroom and before appellate tribunals. Because of our decades of experience in presenting cases to juries, judges, and arbitrators, we know how to conduct pretrial discovery effectively and efficiently with a single goal in mind—to obtain a favorable result as quickly as possible through dispositive motions or, if a trial is unavoidable, to secure a favorable verdict.
Why You Need Epstein Becker Green's Litigation Team
We have experience where it counts. Our highly skilled team includes former judges, U.S. Department of Justice civil and criminal prosecutors, appellate and trial court law clerks, and corporate counsel. Our litigators have extensive experience handling civil and criminal matters in federal and state trial and appellate courts; in arbitrations, mediations, and other alternative dispute resolution (ADR) forums; and before federal and state enforcement and regulatory agencies and various specialized federal bodies.
We know your business. Through decades of representing clients in varied industries (including financial services; hospitality; retail; technology, media, and communications; and the full spectrum of healthcare and life sciences organizations), we have gained acute insight into these industries as well as our clients' businesses, culture, and practices, which has made us more effective advocates for our clients. Since every client is unique, we make sure that we know your business and how your particular circumstances will affect your litigation strategy.
We're smart from the start. Preparation for litigation begins long before a summons is served. We understand how claims arise and are best resolved in your industry. We will review your contracts and business organization and relationships to situate you so that, if a dispute occurs, you will already have a superior negotiation and litigation position.
We're sensitive to your needs. We're committed to developing long-term relationships through thoughtful and innovative litigation management. Litigation for litigation's sake has no place in our playbook. Before any litigation gains traction, we will give you a direct and realistic assessment of your position. And because we're sensitive to the limits on your time and resources, we evaluate the prudence of seeking an early resolution of the matter (through pretrial motions, an ADR method, or favorable settlement). When litigation becomes unavoidable, our litigators are distinctly qualified to provide the superior caliber of services upon which Epstein Becker Green has built its outstanding reputation.
We partner with you for efficient e-discovery. Our litigators work with you to develop document retention programs, discovery response plans, and guidelines for protecting your electronically stored data. Additionally, we provide training on e-discovery rules, standards, and practical implications.
We'll help you avoid future disputes. We're committed to helping you prevent litigation and business disputes from arising in the future. Accordingly, we will educate you on how to, among other things, properly draft and negotiate agreements to limit your litigation exposure and create a conflict management system.
Download our brochure to view a full description of our litigation and business disputes services.