Horizontal Mergers: Is a "Dominant Payer" Defense Viable?
Antitrust Byte
July 12, 2018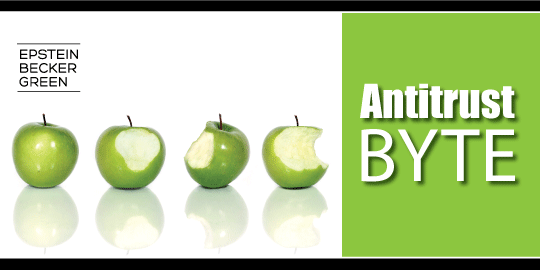 Section 8 of the 2010 Horizontal Merger Guidelines (issued jointly by the U.S. Department of Justice and the Federal Trade Commission) states that "[t]he Agencies consider the possibility that powerful buyers may constrain the ability of . . . merging parties to raise prices." This suggests that parties to a horizontal merger (including hospitals and physician groups) in highly concentrated markets characterized by a dominant payer might be able to argue that the presence of the dominant payer will serve to prevent any potential anticompetitive effects of the proposed transaction.
While the "dominant payer" defense is plausible, and logical, it is more complicated to assert than it would initially appear, for two reasons. First, the agencies have made it clear that they do not presume that the mere presence of the dominant payer alone will "forestall adverse competitive effects from the merger," placing the burden squarely on the merging parties to provide sufficient evidence to support this defense. Second, if the dominant payer previously utilized the presence of competition between the merging parties as leverage in negotiations, or if the transaction might adversely affect other non-dominant payers in the market, this defense may prove difficult to maintain.
* * *
For additional information about the issues discussed above, or if you have any other antitrust concerns, please contact the Epstein Becker Green attorney who regularly handles your legal matters, or one of the authors of this Antitrust Byte: