Nashville, TN (November 1, 2022) – Epstein Becker Green (EBG) is pleased to announce the relocation of its Nashville office to 1222 Demonbreun at Gulch Union, a new U.S. Green Building Council Leadership in Energy and Environmental Design (LEED) Silver Class A building in the city's South Gulch neighborhood.
The relocation of EBG's Nashville office will support the Firm's continued growth in this important region. The move follows the recent addition of Christopher Dunn's construction practice with a health care focus, which included partners Jeremy Oliver and Keith Randall from Waller Lansden Dortch & Davis and partner Carter DeLorme, an experienced employment litigator, from Jones Day. Read more about EBG's recent growth in Nashville here and here.
"It was important that our space met the needs of our attorneys as well as the high standards of our clients—many of whom are at the leading edge of construction and design," said Steven Di Fiore, EBG's Chief Operating Officer. "The building's best-in-class amenities, combined with its LEED Silver rating and the Gulch's first-in-the-South LEED Neighborhood Development designation, provides a perfect venue from which to serve our clients and meet our environmental responsibilities."
Nashville's role as one of the foremost health care centers and the fastest-growing economic area in the United States has made it a flawless fit for EBG and its 50 years of experience in health care, life sciences, employment law, and litigation.
"The neighborhood acts as a gateway to the biggest players in the Nashville market," said Christopher Dunn, a Member of the Firm in EBG's Nashville office. "And 1222 Demonbreun offers quick access to major health systems to the east, an easy 15-minute trip to the commercial center of Cool Springs, and close proximity to I-65."
"The South Gulch is a premier location and perfect environment for our Nashville team," said Julie Lampley, a Member of the Firm in EBG's Health Care & Life Sciences practice in Nashville. "It provides all of the benefits Nashville has to offer, from its walkability to its vibrant social scene, while also supplying a central and easily accessible location from which to serve our clients. The move also offered EBG the opportunity to donate the furniture used in our temporary space to Goodwill Industries of Middle Tennessee, Inc."
The attorneys in EBG's Nashville office cover all of the Firm's core practices, from health care, life sciences, and litigation to employment and workforce management, and they are grounded in the area through civic and cultural associations. The Firm has long supported clients in the Nashville region and is proud that its attorneys have been selected to serve on the boards of prominent organizations, such as the Nashville Health Care Council of the Nashville Chamber of Commerce, the Nashville Bar Association, Life Science Tennessee, and other impactful business and industry groups.
1222 Demonbreun at Gulch Union is phase one of the Gulch Union development with amenities that include:
First-in-Nashville gateless garage system in a commercial property
KnightScoperoaming robotic security
Super-fast destination dispatch elevator system
Commercial services concierge desk
1222 Demonbreun at Gulch Union was developed by a joint venture of Endeavor Real Estate Group, LTD (Austin, Texas) and Granite Properties (Dallas, Texas).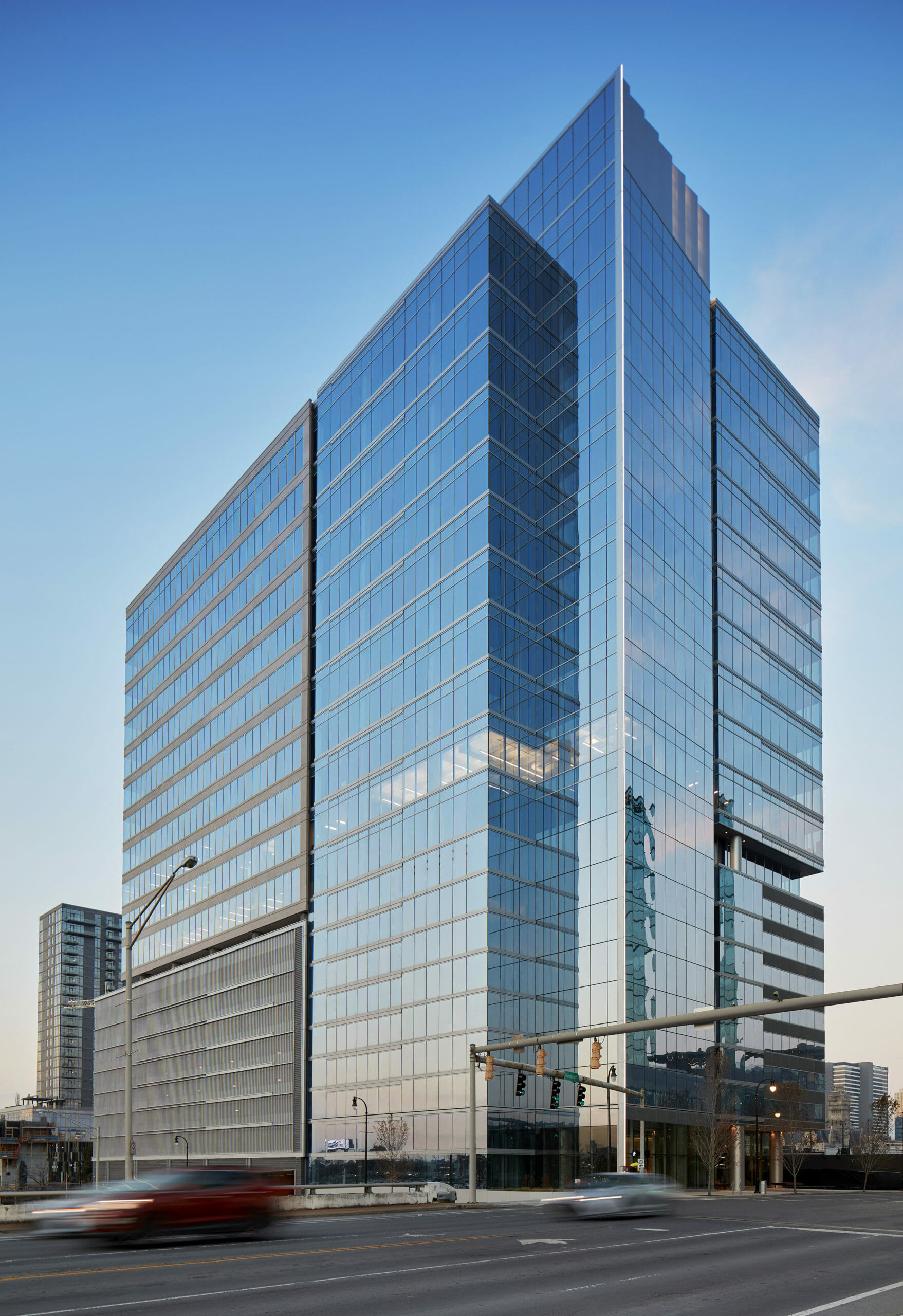 About Epstein Becker Green
Epstein Becker & Green, P.C., is a national law firm with a primary focus on health care and life sciences; employment, labor, and workforce management; and litigation and business disputes. Founded in 1973 as an industry-focused firm, Epstein Becker Green has decades of experience serving clients in health care, financial services, retail, hospitality, and technology, among other industries, representing entities from startups to Fortune 100 companies. Operating in locations throughout the United States and supporting domestic and multinational clients, the firm's attorneys are committed to uncompromising client service and legal excellence.  For more information, visit www.ebglaw.com.