Newark, NJ (April 25, 2022) – Epstein Becker Green (EBG) is proud to announce that James (Jim) P. Flynn, Managing Director and Member of the Firm, has been selected as a 2022 "Leader in Law" by NJBiz, recognizing "New Jersey's leading legal professionals—lawyers and general counsels—whose dedication to their occupation and to their communities is outstanding."
Jim is a Member of the Firm in the Litigation & Business Disputes and Employment, Labor & Workforce Management practices. His practice focuses on civil litigation, corporate counseling, and intellectual property, complex commercial matters, and employment law. He is known for his willingness to tackle unusual challenges and act quickly in time-sensitive matters. As Managing Director, he plays an instrumental role in developing and enhancing the Firm's mission, vision, and values. He also champions diversity, equity, and inclusion throughout EBG and the industry.
"I am humbled to have been chosen among such esteemed, leading practitioners and professionals," Jim said. "Personally, to embrace the mantle of firm leadership was a challenge because I never saw myself as a business leader. But I got by that by focusing on my lifelong love of learning and teamwork—law firm leadership is really just doing what needs to be done to make the team better. By study, commitment, and a desire to be the best I can be, I hope to continue growing as a business leader and to keep helping drive the Firm's shared vision and values forward."
"On behalf of the Firm's attorneys and employees, I would like to congratulate Jim on this prestigious recognition," said Mark Lutes, Chair of the Board. "It comes as no surprise to all of us who work with Jim, that he would be recognized for his dedication to the profession and his community. The Firm and it's clients are also beneficiaries of that dedication."
Before and throughout the pandemic, Jim has engaged employees through firm-wide Core Values communications and routine, individual check-ins with attorneys and staff. He has written about the practice of law during the pandemic, outlining why the world needs resilient, optimistic lawyers who can cope with changes in the profession as well as the many legal issues clients need help addressing. In a Law Firm ILN-Intelligence podcast, he discussed how COVID broke down barriers between offices, the ways EBG addresses the myriad challenges facing us all, and the benefits of a multinational network. Jim sees this promotion of values as an inherent part of leadership. Most recently, he has written about the importance of simply listening.
Jim has a long history of community involvement, beginning at Wesleyan University as a teaching assistant and resident advisor, and then as a member of the Board of Student Advisors at Harvard University. His civic service has included being on the Bayonne Board of Education (2000-2009), Master Plan Revision Committee (1998-2000), and as Bayonne's representative on the Port Authority task force addressing Bayonne Bridge Navigational Clearance Issues (2009-2011), as well as being a trustee of the Simpson Baber Foundation for the Autistic (2002-2015). He also currently serves the broader legal community as the co-director for the John C. Lifland American Inn of Court.
Jim was instrumental in creating EBG's Strategic Alliance with Deloitte Legal to provide clients comprehensive, global employment law and workforce management services. This unprecedented Alliance delivers tremendous value to clients.
Following an open nomination period, honorees were chosen by a panel of independent judges with experience in the justice system. A celebration showcasing these professionals will take place on Tuesday, May 24, 2022.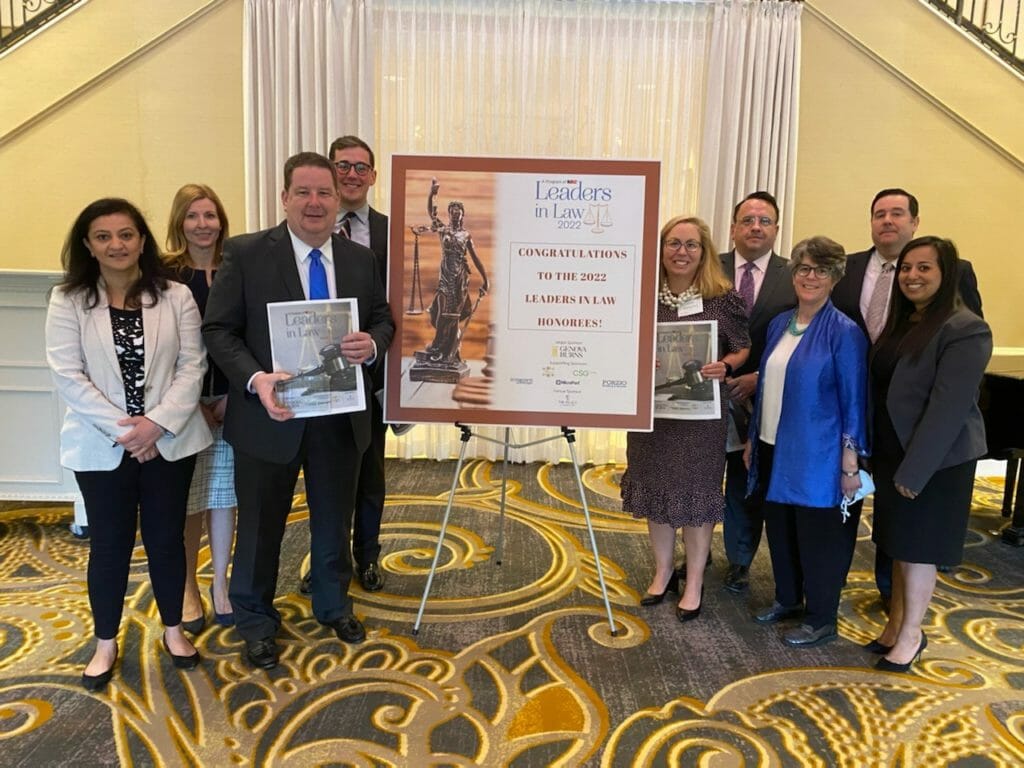 About Epstein Becker Green
Epstein Becker & Green, P.C., is a national law firm with a primary focus on health care and life sciences; employment, labor, and workforce management; and litigation and business disputes. Founded in 1973 as an industry-focused firm, Epstein Becker Green has decades of experience serving clients in health care, financial services, retail, hospitality, and technology, among other industries, representing entities from startups to Fortune 100 companies. Operating in locations throughout the United States and supporting domestic and multinational clients, the firm's attorneys are committed to uncompromising client service and legal excellence.  For more information, visit www.ebglaw.com.