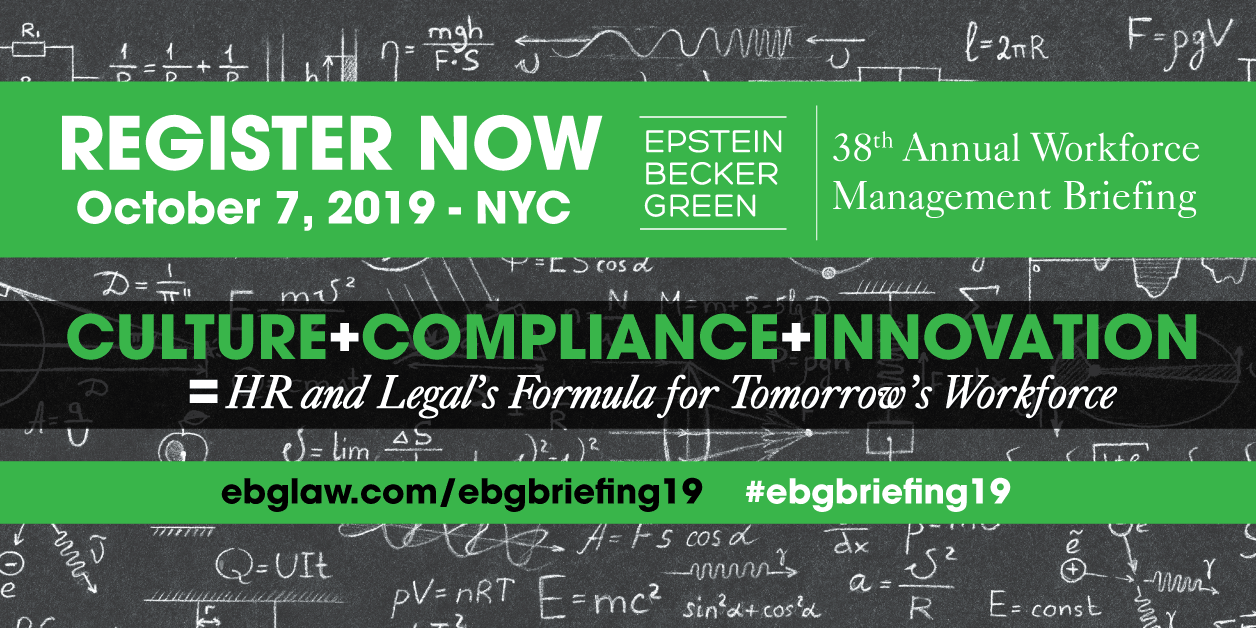 Government Officials, Top Company Executives, and EBG Attorneys Provide Valuable Insights
New York, NY (August 19, 2019) – Epstein Becker Green (EBG) is pleased to announce that it will host its 38th Annual Workforce Management Briefing on October 7, 2019, at the Grand Hyatt New York. This year's briefing—titled "Culture + Compliance + Innovation = HR and Legal's Formula for Tomorrow's Workforce"—will feature John F. Ring, Chairman of the National Labor Relations Board; Eric S. Dreiband, U.S. Assistant Attorney General for the Civil Rights Division of the U.S. Department of Justice (DOJ); Erica Volini, Deloitte's Global Human Capital leader; as well as general counsel and human resources professionals from such companies as Credit Suisse, Deloitte, McDonald's Corporation, United Parcel Service (UPS), and WeWork.
"There are many significant forces impacting today's workforce," said David W. Garland, Chair of EBG's Employment, Labor & Workforce Management Steering Committee and a member of the firm's Board of Directors. "For this year's briefing, we have assembled terrific panels of speakers who will dive into a number of important topics, including pay equity compliance, the #MeToo movement and the increase in anti-harassment requirements, the effects of big data on employee privacy, and many others. Attendees will hear from government officials, company executives, and EBG attorneys who will discuss best practices and provide valuable insights on the latest employment, labor, and workforce management developments and what they mean for companies and their workforces."
The day-long seminar will hold numerous workshops and feature panelists from various companies and organizations. Workshop topics include:
Business Impact of #MeToo
Diversity, Inclusion, and Unconscious Bias
Disability Accommodations
Trade Secrets
Big Data
Pay Equity
Marijuana and the Workplace
Innovative Employee Benefits
Successful Labor Negotiations
Wage and Hour Update
Ethics
Media are invited to attend the morning plenary sessions featuring Eric S. Dreiband, U.S. Assistant Attorney General for the DOJ's Civil Rights Division, and John F. Ring, Chairman of the National Labor Relations Board, as well as a luncheon featuring speaker Erica Volini, Global Human Capital Leader, Deloitte Consulting LLP, who will be interviewed by Bloomberg BNA Editor-in-Chief Cesca Antonelli. For press credentials, and to set up interviews with select guest speakers and EBG attorneys, please contact Piper Hall at plhall@ebglaw.com.
About Epstein Becker Green
Epstein Becker & Green, P.C., is a national law firm with a primary focus on health care and life sciences; employment, labor, and workforce management; and litigation and business disputes. Founded in 1973 as an industry-focused firm, Epstein Becker Green has decades of experience serving clients in health care, financial services, retail, hospitality, and technology, among other industries, representing entities from startups to Fortune 100 companies. Operating in locations throughout the United States and supporting domestic and multinational clients, the firm's attorneys are committed to uncompromising client service and legal excellence.  For more information, visit www.ebglaw.com.