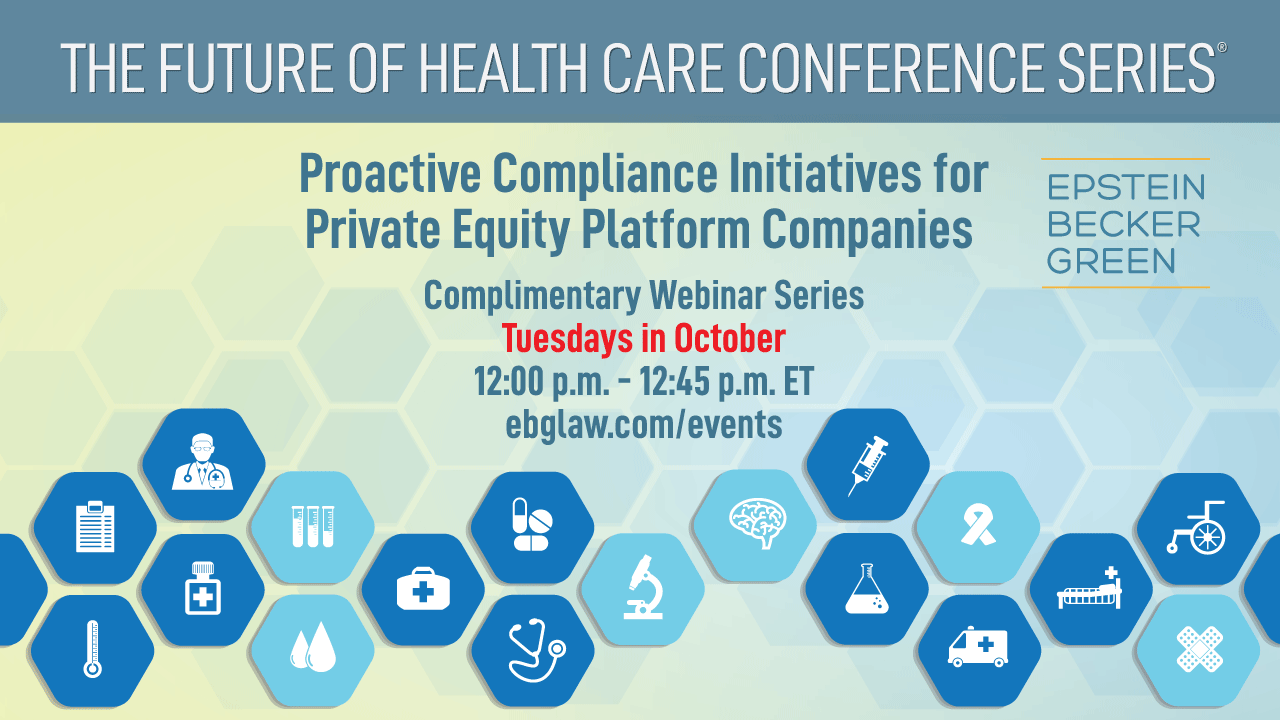 Watch the Video on YouTube or Here:
Download the Slides or View via Slideshare:
Presented by:
Christopher McMican, Kevin Ryan, Peter Steinmeyer
Please join Epstein Becker Green attorneys for the webinar, "Employee Benefits and Executive Compensation Compliance and Planning," one of five in a fall series that will address how proactive compliance initiatives are critical to a platform's operations, expansion efforts, and eventual monetization upon exit.
Failure to comply with the host of state and federal rules and regulations that govern employee benefit plans and executive compensation arrangements can result in severe penalties and reduce investment value. Planning not only for a purchase transaction but also for integration and future operations is critical for an organization's human capital success. Certain key issues must be analyzed regardless of whether stock or assets are purchased. The platform will need to consider Internal Revenue Code ("Code") Section 401(k) and 403(b) plans, health plans, and bonus and other executive compensation arrangements (with potential Code Section 409A deferral restrictions), including any desired or necessary changes for streamlining, merging, terminating, or implementing new plans or perquisites. Consideration must be given to employment agreements and the various related continuity issues, including assigning contracts, non-compete provisions, and confidentiality clauses. Platforms operating in the health care space must also consider issues resulting from union activity (e.g., multiemployer health and pension arrangements, financial commitments, and withdrawal liability), excessive rates of employee turnover, strategical and hybrid formulas in retirement plans, and affiliated service group implications. State regulations that restrict ownership of certain health care professional corporations require resource allocation between medical service entities and management or staffing organizations, and, as a result, an understanding of the viable alternatives for structuring stock options and other equity components of the pay package for the key individuals is necessary.
The fifth webinar in this series will address various employee benefits and executive compensation issues that must be addressed by platform companies in their compliance efforts as they structure the transaction and move forward with operations. In addition to the challenges that normal buyers face in capital markets, this installment of the webinar series will explore the unique issues that platform companies will encounter in the health care sector. Navigating and planning for these issues will reduce financial risk and allow the platform to increase the attractiveness of its investment for continuing operations as well as for a potential exit strategy.
Learn more about other installments in this series.
If you have questions regarding this event, please contact David Stone.