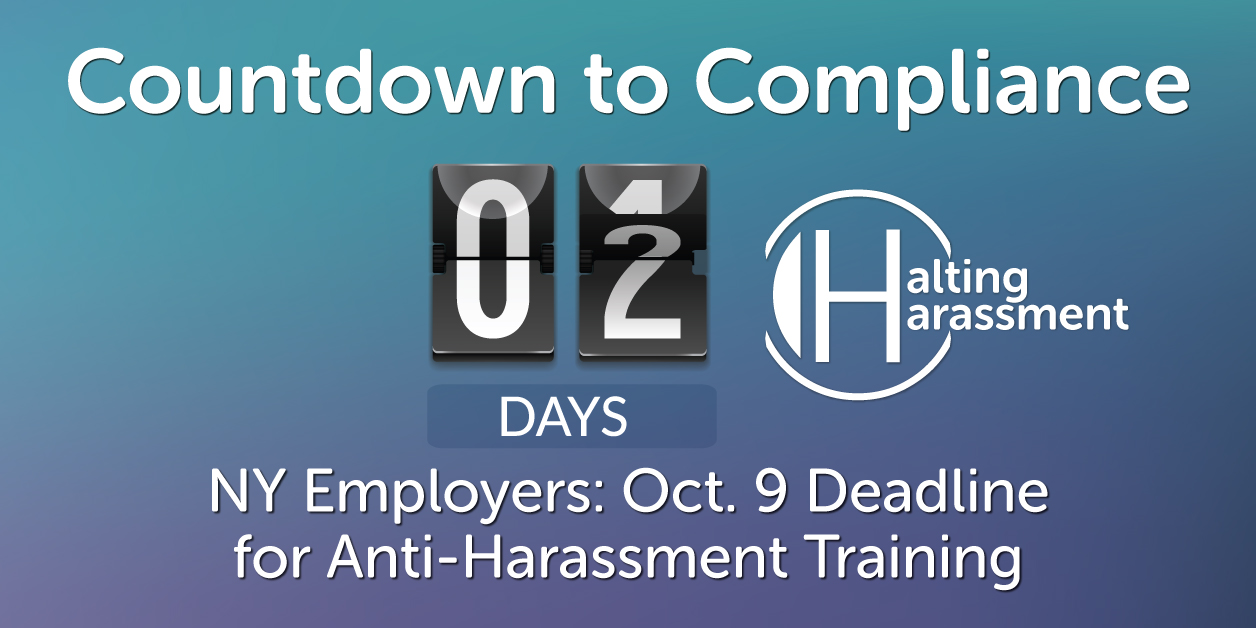 New York State's deadline for training employees on preventing sexual harassment and discrimination is 2 days from today, October 7. You must train all New York employees by October 9, 2019, regardless of the size of your New York workforce. Employees based outside of New York who spend a "portion of their time" in the state must also be trained.
Further, New York City employers need to comply with the City's additional training requirements. A recent article by Epstein Becker Green attorneys discusses some of the differences between the State and City laws and outlines employer responsibilities and next steps.
Epstein Becker Green's e-learning solution, Halting Harassment: Rules of the Road for a Respectful and Inclusive Workplace, does the heavy lifting for you. The course is compliant with the New York State and City requirements. Plus, it offers compelling, engaging content that is delivered in an efficient, modular format.
Contact us to demo the full course today! haltingharassment@ebglaw.com
Order Now to Meet Pending Deadlines
Employers striving to comply with the current and unprecedented number of emerging laws concerning anti-harassment training in the workplace should look no further than a new e-learning solution developed by Epstein Becker Green's Employment, Labor & Workforce Management practice.
Halting Harassment: Rules of the Road for a Respectful and Inclusive Workplace will provide compliant, compelling, interactive, computer-based training for all company employees in addition to supplemental training for supervisors. The product has been designed to help employers in jurisdictions with mandatory training requirements, as well as those in locations without them, encourage behaviors that foster a work environment free from discrimination and harassment. Halting Harassment is 50-state compliant.
Your employees will be given essential information on topics such as:
What "harassment," "discrimination," and "retaliation" mean under employment laws;
Where and when harassment, discrimination, and retaliation might take place;
How to engage in bystander intervention;
How the complaint procedure works, including the prohibition against forms of retaliation;
Each employee's/supervisor's role in maintaining a respectful and inclusive work environment–and much more!
Learn More About Pending Deadlines
Learn More About the Course
Contact us to learn how this training can protect your organization and to explore all your training options: haltingharassment@ebglaw.com