Washington, DC (November 10, 2015) – As part of the firm's celebration of Diversity Awareness Month in October, Epstein Becker Green (EBG) honored William A. Keyes IV with the firm's Make A Difference Award during its annual Diversity Reception on October 29.
Mr. Keyes is the founder and president of The Institute for Responsible Citizenship ("The Institute"), an intensive leadership program for America's best and brightest African-American male college students. Housed in EBG's Washington, DC office, the Institute's mission is to prepare men to be exemplary citizens and leaders. The Institute inspires young men to pursue extraordinary career success not simply for their personal benefit but as a platform from which they can serve others.
"On behalf of the firm, I was fortunate to present my dear friend Bill Keyes with Epstein Becker Green's third annual Make a Difference award as recognition of his lifetime commitment to diversity," said Steven Epstein, founding partner of Epstein Becker Green. "Bill's unwavering dedication and mentorship of our next generation of exceptional leaders is to be commended, and we thank him for the outstanding work he does through the Institute and beyond."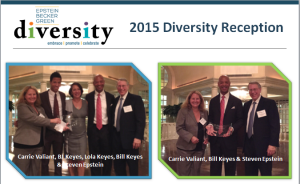 Institute scholars have a wide variety of interests and represent small liberal arts colleges, large universities, Ivy League institutions, and historically black colleges and universities. Alumni have been accepted to all of the nation's top law schools and many of the nation's leading graduate programs. Today, these alumni are lawyers, teachers, ministers, accountants, doctors, entrepreneurs, and rising stars at Fortune 500 companies. Two have been named Rhodes Scholars and several others were Rhodes finalists. Institute alumni have also received the Truman, Fulbright and other prestigious awards. All of them are engaged in public and community service, including the nation's youngest school board president.
For his extensive work in education, Mr. Keyes was presented the Mac A. Stewart Distinguished Award for Service by the Todd A. Bell National Resource Center on the African American Male at Ohio State University. He also received the Dr. Asa G. Hilliard Model of Excellence Award from the College Board. When he was tapped for the Order of the Golden Fleece, the highest honorary society at the University of North Carolina and the oldest honorary society of its type in the United States, Mr. Keyes was cited for his help in creating the UNC's Leadership Institute. The Leadership Institute has served hundreds of students from underrepresented populations by helping them develop the necessary nonacademic skills that are required for success.
Prior to founding the Institute, Mr. Keyes worked on Capitol Hill, as a White House Senior Policy Advisor, and in private consulting.
About Epstein Becker Green
Epstein Becker & Green, P.C., is a national law firm with a primary focus on health care and life sciences; employment, labor, and workforce management; and litigation and business disputes. Founded in 1973 as an industry-focused firm, Epstein Becker Green has decades of experience serving clients in health care, financial services, retail, hospitality, and technology, among other industries, representing entities from startups to Fortune 100 companies. Operating in offices throughout the U.S. and supporting clients in the U.S. and abroad, the firm's attorneys are committed to uncompromising client service and legal excellence. For more information, visit www.ebglaw.com.