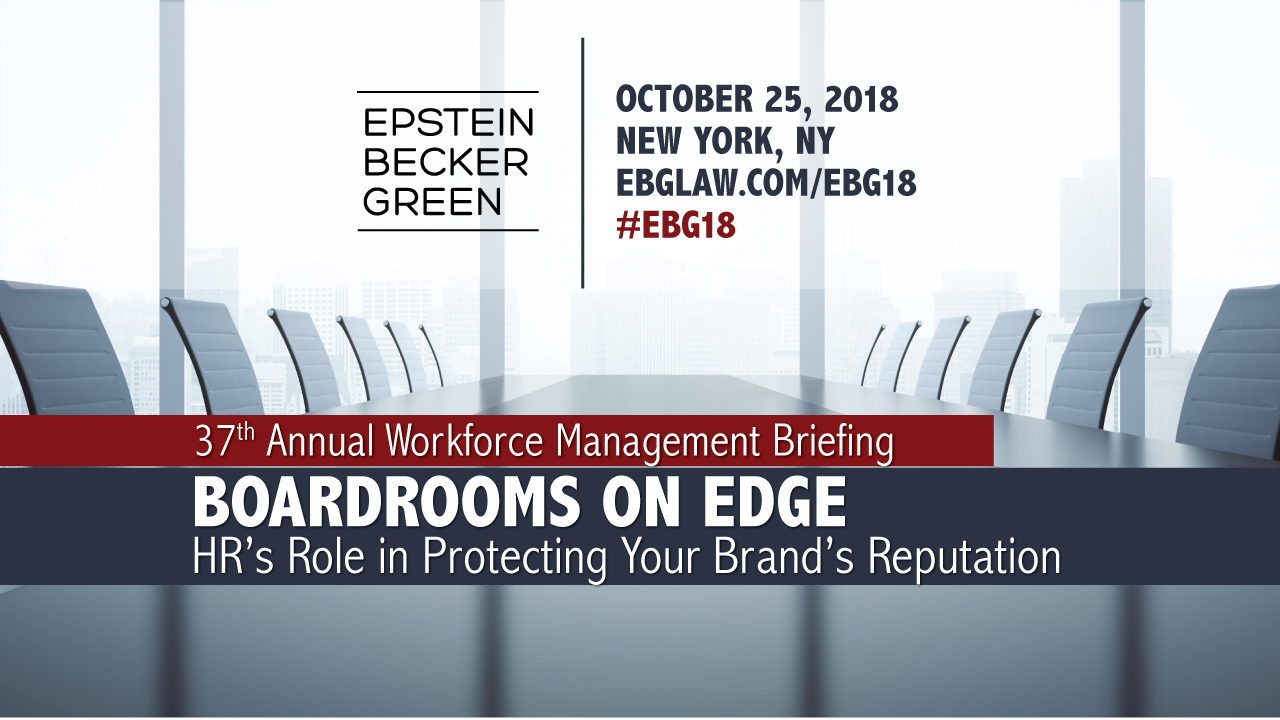 Participant Materials and Presentations:
See Below for Links
Government officials, in-house employment counsel, and Epstein Becker Green attorneys will address the latest employment, labor, and workforce management developments and what they mean for your company.
This year's program will feature a variety of workshops and panels. Presenters will include the Acting Chair of the U.S. Equal Employment Opportunity Commission and human resources professionals from such companies as Credit Suisse, Deloitte, IBM Services, MTV, National Football League, and S&P Global.
Click here for the workshop details and full briefing agenda.
Featured Speakers
Nancy Axilrod Denton, General Counsel, Tapestry, Inc. (Retired)
Anjali Kumar, Author; Board Member, Happy Money; Former Chief People Officer  & General Counsel, Cheddar; Former General Counsel and Head of Social Innovation, Warby Parker; Former Senior Counsel, Google
Victoria A. Lipnic, Acting Chair, U.S. Equal Employment Opportunity Commission (EEOC)
Jacqueline D. Parkes, Chief Marketing Officer and EVP, Digital Studios, MTV, VH1 & Logo
Benjamin Pring, Co-Founder and Managing Director, Cognizant's Center for the Future of Work
Dan Rube, Executive Vice President and Deputy General Counsel, National Basketball Association
Workshop Topics Include
The Future of Work: Artificial Intelligence in the Workplace
Did That Really Just Happen? Practical Strategies for Preventing Unconscious Biases and Microaggressions in the Workplace
Accommodations in the Workplace: When Equal Treatment Isn't Enough
Hiring from a Competitor: Practical Tips to Minimize Litigation Risk
The Epic Effect and Alternative Dispute Resolution: Guidance for Employer ADR Programs and Preparing for Arbitration
Gender Identity: Know Your Obligations and How to Foster an Inclusive Workplace
A Time of Change at the NLRB: Effectively Navigating Evolving Labor Relations Requirements
Equal Pay Is a Priority for Your Employees, but Is It a Priority for Your Organization?
Wage and Hour Compliance: Working Overtime to Keep Up with a Changing Legal Landscape
For more information, please contact Sylwia Faszczewska.
Resources
Halting Harassment: E-Learning Solution from Epstein Becker Green