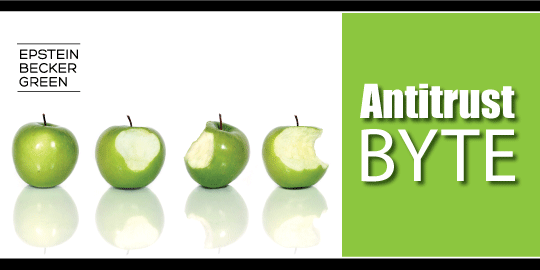 On April 11, 2018, the Federal Trade Commission ("FTC") and the Department of Justice ("DOJ") released their 40th Annual Hart-Scott-Rodino Report ("HSR Report") detailing merger enforcement activity in fiscal year 2017 (covering October 1, 2016, to September 30, 2017). According to the HSR Report, despite the annual increase in reporting thresholds, there were 2,052 reportable transactions in 2017, representing a 12 percent increase over fiscal year 2016. Almost 5 percent of those transactions were in the health services industry.
Of the transactions reported, 39 were challenged by the federal antitrust enforcement agencies—21 by the FTC and 18 by the DOJ. And of those challenged, the vast majority were settled, abandoned, or restructured to satisfy raised competitive concerns.
The HSR Report also indicates that the federal antitrust enforcement agencies received HSR notifications for 32 hospital mergers and 35 acquisitions by ambulatory health care service providers in fiscal year 2017. All of these transactions were permitted to close without a challenge or even a second request for information. This empirical data supports the statements from the federal antitrust enforcement agencies that challenges to health care transactions are the exception rather than the norm.
* * *
For additional information about the issues discussed above, or if you have any other antitrust concerns, please contact the Epstein Becker Green attorney who regularly handles your legal matters, or one of the authors of this Antitrust Byte: