Other Interests
Journalism
George Whipple maintains an active media presence, both as a leading employment law attorney and as a freelance entertainment and lifestyle commentator and photographer.
He is a reporter for "On the Town," on NY1 News, and his photography work has appeared in The New York Times Magazine, Harper's Bazaar, and Town and Country. He has appeared in Bloomberg BNA and on CNN-FN, E! Entertainment Television, The Tonight Show, and Entertainment Tonight.
Philanthropy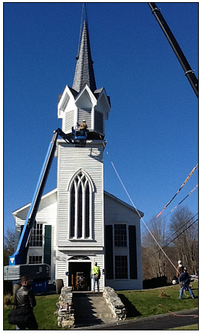 An avid philanthropist, George devotes significant time and resources to preserving the rich history of Putnam County, New York.
He has been recognized by various groups for his contributions to Putnam County civic, environmental, and historic preservation movements. George received the Gold Medal for Civic Responsibility from the Sons of the American Revolution, the Entrepreneur Spirit Award in 2009 from the Putnam County Chamber of Commerce, a Keep Putnam Beautiful Certificate, the Rotary International Service Above Self Award presented by the Lake Mahopac Rotary Club, as well as awards from The Putnam County Courier, the Hudson Valley Association, and, in 2002, a Special Trustee Recognition, Regional Historical Service Award from the Lower Hudson Conference.
Photo: The Whipple-Feeley Chapel, Putnam County Veteran's Park