Sharing of Clinical Information Generally Acceptable Under Antitrust Laws
Antitrust Byte
November 29, 2018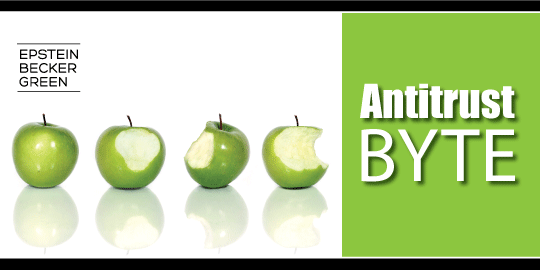 Given the importance of population health management, providers (whether as part of a value-based arrangement or otherwise) share clinical information to help develop best practices and quality initiatives. Current guidance from the federal antitrust enforcement agencies provides that absent "extraordinary circumstances," the agencies will not challenge the sharing of medical data to help develop best practices and quality initiatives. In short, the exchange of medical information that may provide for the development of higher quality health care generally will not raise concern.
More specifically, in 1996, the Department of Justice and Federal Trade Commission published a joint policy on enforcement of antitrust laws in the health care setting (the "Policy Statements"). In relevant part, the Policy Statements provide:
Providers' collective provision of underlying medical data that may improve purchasers' resolution of issues relating to the mode, quality, or efficiency of treatment is unlikely to raise any significant antitrust concern and will not be challenged by the Agencies, absent extraordinary circumstances.
The Policy Statement continues, stating:
The Agencies also will not challenge, absent extraordinary circumstances, providers' development of suggested practice parameters—standards for patient management developed to assist providers in clinical decision making—that also may provide useful information to patients, providers, and purchasers. Because providers' collective provision of such information poses little risk of restraining competition and may help in the development of protocols that increase quality and efficiency, the Agencies will not challenge such activity, absent extraordinary circumstances.
It is important to recognize the Agencies' use of the word "suggested" (emphasis added) as the Policy Statement continues to explain that such sharing of information does not exempt group boycotts or other similar activities. Thus, while the Agencies recognize that providers may safely share medical data to assess quality and practice parameters, it may be a best practice to then allow each provider to assess how and whether to implement the information gathered into its own clinical setting. In this way, innovation continues to be encouraged, while providers gain access to useful clinical information.
* * *
For additional information about the issues discussed above, or if you have any other antitrust concerns, please contact the Epstein Becker Green attorney who regularly handles your legal matters, or one of the authors of this Antitrust Byte: