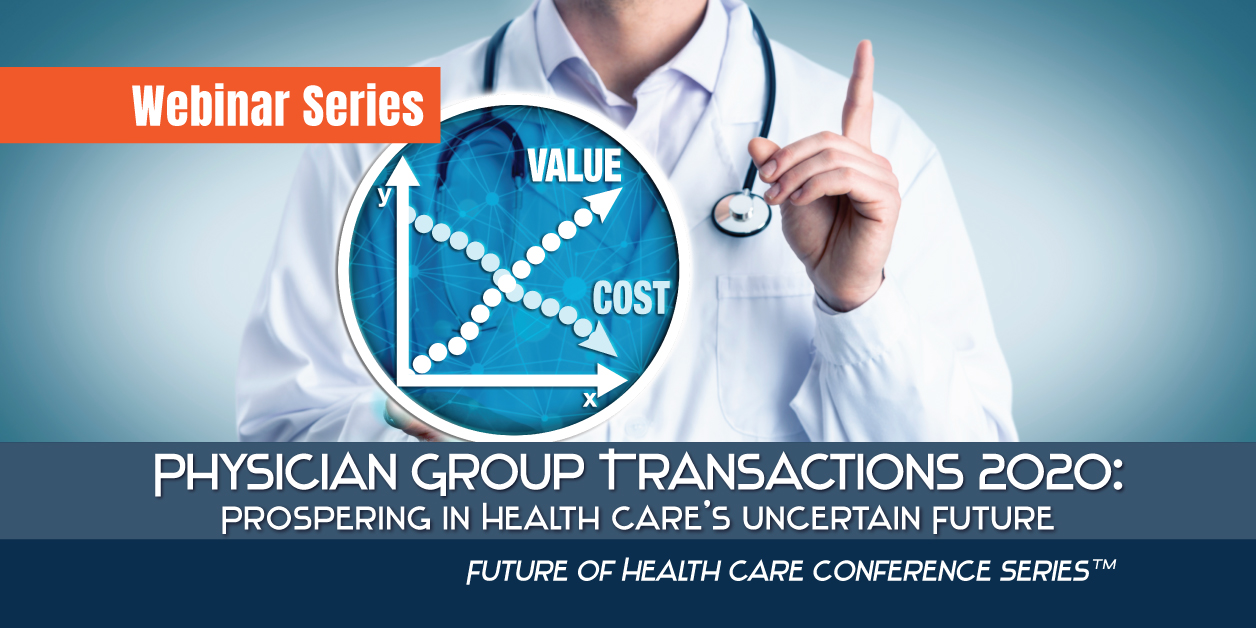 A Complimentary Three-Part Webinar Series Geared Towards Educating Physicians and Physician Groups
(In-person conference to be rescheduled for fall 2020.)
Transaction activity across the health care industry steadily increased throughout 2019.
This activity is expected to continue through 2020 and into 2021, but it may experience a slowdown for a few months due to the coronavirus pandemic.
There is growing uncertainty regarding the future of the health care industry and, in particular, how the transformation that is well underway will impact physicians and physician groups.
This three-part webinar series will guide leaders of independent medical groups through the process of exploring various options in order to strategically position themselves for long-term success. Learn about Part 1 (April 23) and Part 2 (April 30).
Discussion Topics:
How groups should prepare in advance of exploring a potential transaction in order to maximize their value (and avoid devaluation)
What each step of the transaction process involves (proposals, letters of intent, due diligence, and more)
Key protections that are essential for physicians in major transaction agreements
Insights provided by:
Aaron Cohen, Principal and Healthcare Co-Practice Leader, Citrin Cooperman
Steve Messinger, President, ECG Management Consultants
Kevin J. Ryan, Member of the Firm, Epstein Becker Green
Moderated by:
Anjana D. Patel, Member of the Firm at Epstein Becker Green
To register for this complimentary webinar, click here.
For more information, please contact Eury Jung at ejung@ebglaw.com.

Also supported by:
Medusind