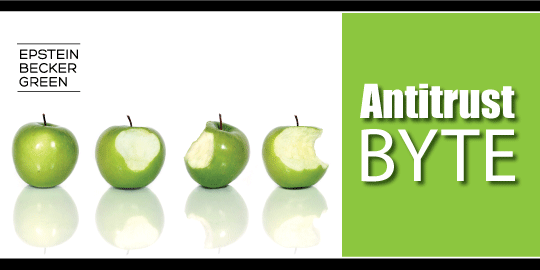 On September 16, 2019, the Federal Trade Commission ("FTC") and the Antitrust Division of the Department of Justice ("DOJ") released their combined Hart-Scott-Rodino Annual Report ("Report") for fiscal year 2018 (covering the time period of October 1, 2017, through September 30, 2018). This is the 41st annual report, and, as with the other reports, it provides revealing merger-related information.
During fiscal year 2018, there were 2,111 transactions meeting the size threshold of $90 million that were reported under the Hart-Scott-Rodino Antitrust Improvements Act ("HSR Act")—a 2.9 percent increase from the prior year. Of the reported transactions, the FTC conducted 22 merger enforcement challenges, 12 of which resulted in consent orders, five were abandoned, and five were subject to either an administrative or federal court litigation. DOJ conducted 17 merger enforcement challenges during this time period, eight of which were settled, four were abandoned, four were restructured to resolve DOJ concerns, and the remaining were actively litigated.
Of the reported transactions, only 45 (approximately 2.2 percent) resulted in a second request (26 issued by the FTC and 19 issued by the DOJ)—a decrease from the prior year when the federal enforcement agencies issued 51 second requests.
Also according to the Report, there were 33 hospital transactions, 50 ambulatory health care services transactions, and one nursing care facility transaction reported pursuant to the HSR Act during fiscal year 2018. However, only two hospital transactions and three ambulatory health care services transactions garnered second requests, and none of these transactions resulted in litigation. Furthermore, the FTC once again assumed primary responsibility for reviewing these health care-related transactions.
* * *
For additional information about the issues discussed above, or if you have any other antitrust concerns, please contact the Epstein Becker Green attorney who regularly handles your legal matters, or one of the authors of this Antitrust Byte: