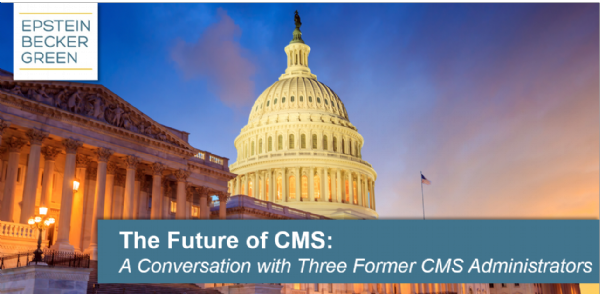 Epstein Becker Green invites you to join former CMS Administrators Tom Scully, Leslie Norwalk, and Marilyn Tavenner for a unique panel discussion on their thoughts, advice, and predictions for President Biden's newly confirmed CMS Administrator, Chiquita Brooks-LaSure.
What are the biggest challenges that she will face?
What types of health policy initiatives will she be prioritizing?
What changes can she enact through guidance, waivers, and agency rulemaking without congressional action?
Moderator Ted Kennedy, Jr., a regulatory attorney with Epstein Becker Green, will lead this exclusive gathering of health policy thought leaders—who themselves served in the role of CMS Administrator under both Democratic and Republican presidents—to analyze and forecast the policy, coverage, regulatory, and reimbursement changes that the health care industry should anticipate from the new Biden administration.
We will leave time for Q&A. If there are specific questions you would like to submit in advance, please email Ted Kennedy.
Click here to register for this complimentary webinar.
Speakers
If you have questions about the program, please contact Kristen Vetula.
Members of the media, please contact Piper L. Hall.