Steven B. Epstein, co-founder of Epstein Becker Green and one of the pioneers of U.S. health care law, has been honored with Columbia University Law School's "Medal of Excellence." The award ceremony took place on February 6 at the Waldorf Astoria Hotel in Manhattan at the Columbia Law School Alumni Association's annual Winter Luncheon.
"We are very proud of Steven for receiving this prestigious award," said Epstein Becker Green Chair Doug Hastings. "He has played a critical role in the establishment of the concept that health care organizations require a dedicated form of legal representation."
Mr. Epstein has been instrumental in the acceptance of managed care as the most prominent form of health care delivery. He continues to be a leader in health policy and legal structures that are used together to form a quality and a cost-effective health care system.
Mr. Epstein has been called the "father of the health care legal industry" by the legal guide Chambers USA, and a "trailblazer in the field of health care law" by Columbia Law School Magazine. He was selected as a member of the Greater Washington Legal Elite by Washington Smart CEO and was named as one of the Best Lawyers in America in 2008 and 2009, and in Washington DC's Top Lawyers in 2008 and 2009.
Mr. Epstein currently serves as chair of Columbia Law School's Board of Visitors. He received Columbia University's Distinguished Alumni Award in 2007 and Tufts University's Distinguished Alumni Award in 1999.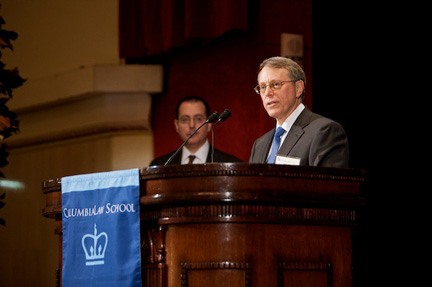 Photo by Jon Roemer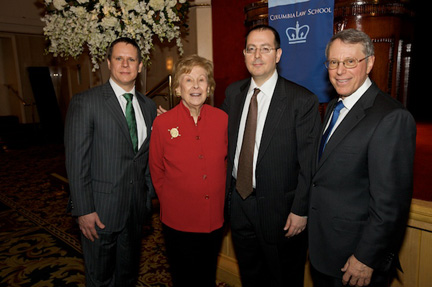 John M. Olivieri' 94, President of the Columbia Law School Association
Dawn Greene, President and CEO of the Jerome L. Greene Foundation (accepted award posthumously in honor of her husband, Jerome L. Greene, '28, '83 HON
1906—1999 | Lawyer, real estate investor, philanthropist
David M. Schizer, Dean and the Lucy G. Moses Professor of Law, Columbia Law School
Steven Epstein, '68, Senior Partner, Epstein Becker & Green, P.C.
Photo by Jon Roemer