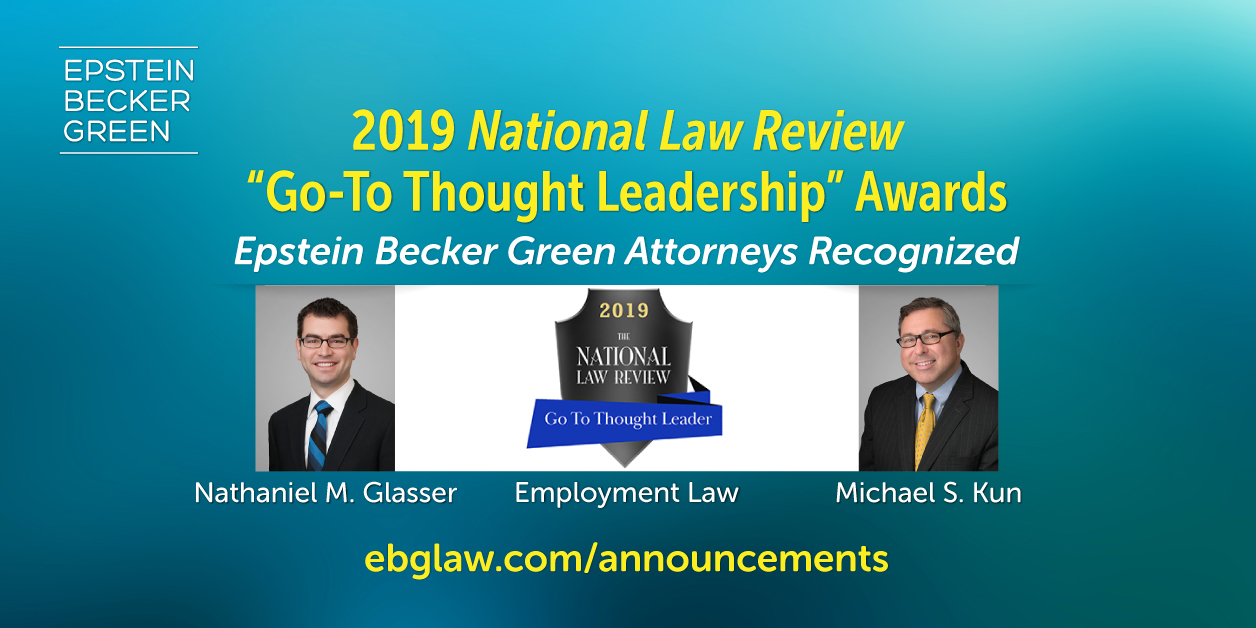 New York, NY (December 6, 2019) – Epstein Becker Green (EBG) is proud to announce that Nathaniel M. Glasser and Michael S. Kun, Members of the Firm, in the firm's Washington, DC, and Los Angeles offices, respectively, have been recognized in The National Law Review's 2019 "Go-To Thought Leadership Awards" in the Employment Law category.
With this award, The National Law Review seeks to recognize legal authors who "not only demonstrate a depth of legal knowledge but also outline the steps needed for compliance and/or adaptation. These designated authors are not only reader favorites but are often quoted in other publications and/or syndicated in other media."
For the second year, editors of The National Law Review combed through over 100,000 pieces of legal content published in 2019 to select only 75 "exceptional legal authors." Among this select group, Mr. Glasser has been recognized for his thought leadership in the "Human Resources + Marijuana Law" category, and Mr. Kun has been recognized for his thought leadership in the "DOL" and "Salary Issues" categories.
With regard to Mr. Glasser, The National Law Review wrote:
"Nathaniel M. Glasser was named a 2019 National Law Review Go-To Thought Leader for his articles on employment and labor law. Specifically, Mr. Glasser's intersection with marijuana decriminalization and human resources (HR) concerns employers face in those jurisdictions finds favor with National Law Review readers. As new regulations come into play with marijuana, both medical and recreational, being legalized in many states across the country, his analysis is helpful to employees and employers alike in trying to update human resources policies and protections, maintain a safe workplace, and implement drug screening."
With regard to Mr. Kun, The National Law Review wrote:
"Michael S. Kun is an employment & labor litigator at Epstein Becker Green, focusing on California employment law. He was recognized as a National Law Review Go-To Thought Leader for his work analyzing Employment Law matters, employment class action litigation, complying with Fair Labor Standards Act (FLSA) overtime and changing Department of Labor (DOL) wage-hour and salary threshold regulations, as well as changes in arbitration rules. National Law Review readers count themselves well-informed and up to the minute from Mr. Kun's expertise."
Those selected for The National Law Review Thought Leadership Awards comprise "less than 1% of the publication's 15,000 thought leaders." For more information, please see The National Law Review's announcement or visit NatLawReview.com.
About Epstein Becker Green
Epstein Becker & Green, P.C., is a national law firm with a primary focus on health care and life sciences; employment, labor, and workforce management; and litigation and business disputes. Founded in 1973 as an industry-focused firm, Epstein Becker Green has decades of experience serving clients in health care, financial services, retail, hospitality, and technology, among other industries, representing entities from startups to Fortune 100 companies. Operating in locations throughout the United States and supporting domestic and multinational clients, the firm's attorneys are committed to uncompromising client service and legal excellence.  For more information, visit www.ebglaw.com.