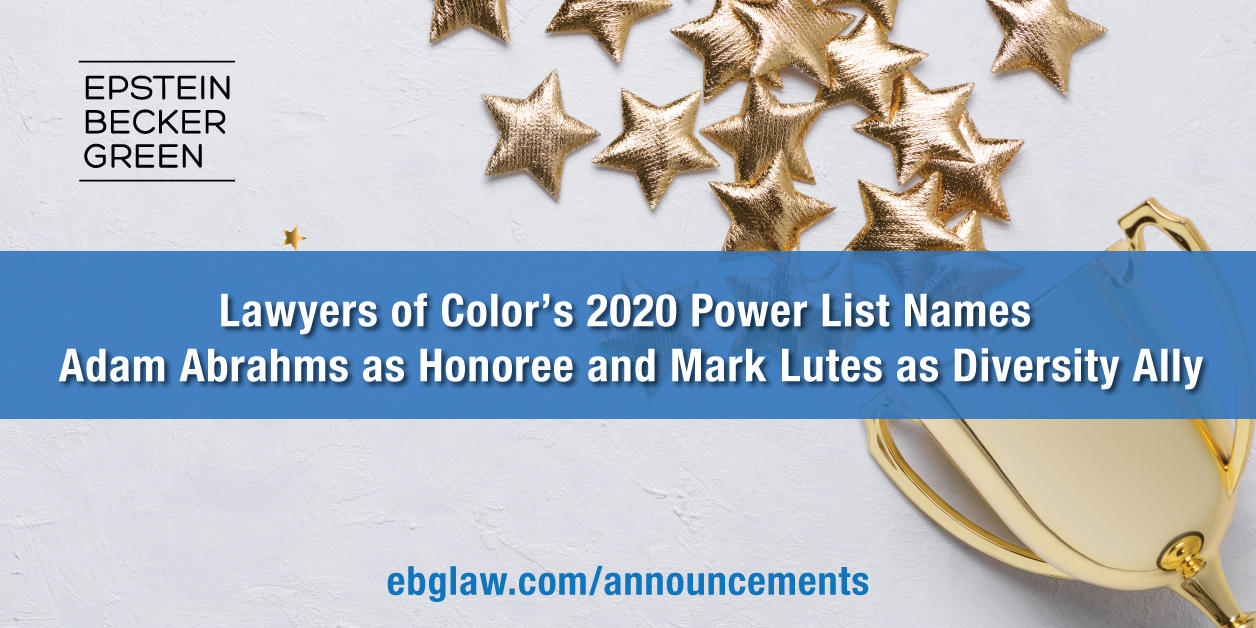 Washington, DC (January 24, 2020) – Epstein Becker Green (EBG) is proud to announce that Adam C. Abrahms and Mark E. Lutes, Members of the Firm, have been recognized in Lawyers of Color's 2020 Power List. Mr. Abrahms has been named a Law Firm Partner 2020 Honoree and Mr. Lutes has been lauded as an Ally for his commitment to diversity.
Lawyers of Color is a nonprofit devoted to promoting diversity and advancing diversity in the legal profession. The Power List recognizes the most influential minority attorneys and allies in the nation, including general counsel, managing partners, and law school deans, as well as legal media and nonprofit leaders.
"I am especially appreciative of this recognition," said Mr. Abrahms. "As a Member of the Firm in a leadership role, I see the importance and value that EBG places on diversity at all levels of the firm. We strive to be inclusive and bring diversity of thought to our clients every day."
"I am very pleased for Adam and congratulate both him and Lawyers of Color for their work to advance diversity in our profession," continued Mr. Lutes. "We are committed to bringing our clients a team of diverse attorneys and professionals—and, as an Ally, I am committed to helping create a culture of support at the firm."
Mr. Abrahms is a Member of the Firm in the Employment, Labor & Workforce Management and Health Care & Life Sciences practices, in the firm's Los Angeles office. He serves on the firm's Board of Directors and is a member of the firm's Labor Management Relations practice group. He has devoted his practice almost exclusively to aiding employers in developing strategies to remain union-free and, in organized operations, to securing and expanding management rights.
Mr. Lutes is the Chair of the firm's Board of Directors and a Member of the Firm in the Health Care & Life Sciences practice. Based in Washington, DC, he has practiced with the firm for more than three decades. Prior to that, he was a legislative adviser to the Federal Trade Commission. He also offers strategic counsel in health policy and on reimbursement strategy through the firm's affiliates EBG Advisors, Inc., and National Health Advisors, LLC.
About Epstein Becker Green
Epstein Becker & Green, P.C., is a national law firm with a primary focus on health care and life sciences; employment, labor, and workforce management; and litigation and business disputes. Founded in 1973 as an industry-focused firm, Epstein Becker Green has decades of experience serving clients in health care, financial services, retail, hospitality, and technology, among other industries, representing entities from startups to Fortune 100 companies. Operating in locations throughout the United States and supporting domestic and multinational clients, the firm's attorneys are committed to uncompromising client service and legal excellence.  For more information, visit www.ebglaw.com.