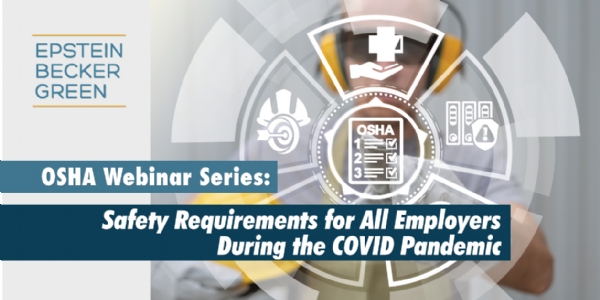 This complimentary three-part, on-demand webinar series will inform employers about new requirements from OSHA in the COVID-19 era.
In response to the COVID-19 pandemic, the Occupational Safety and Health Administration (OSHA), the federal enforcement organization responsible for safe workplaces, has issued evolving guidance with new recordkeeping and reporting obligations. OSHA also launched hundreds of COVID-19 fatality and hospitalization investigations. The pandemic forced OSHA to pivot from traditional approaches toward personal protective equipment and infectious disease control standards to a heavier reliance on the general duty to provide a safe workplace—one protected from communicable disease spread. The dramatic rise of telework and distributed work will also challenge OSHA to create new safeguards as the pandemic changes the way America works—perhaps forever.
Epstein Becker Green has developed this series to help employers think through these issues and prepare for new safe workplace challenges.
---
Episode 3: Future State of OSHA Enforcement
The final part of this series will focus on the future of safety enforcement in the post-COVID-19 era. This episode will pay special attention to the future of work (e.g., remote work sites, distributed work centers), lessons learned from dealing with a global pandemic, and how to craft a nimble safety plan for the future.
Click here for access to the complimentary webinar recording.
If you have any questions, please reach out to Julie Choudhury.