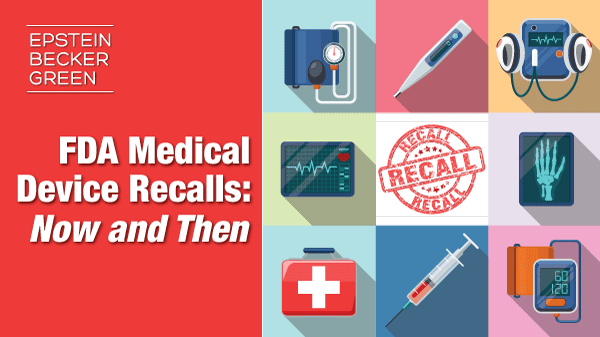 Download the Slides or View via Slideshare:
How FDA's Newly Proposed
Medical Device Safety Action Plan
Will Change the Recall Landscape
Presented by 
Bradley Merrill Thompson
Member of the Firm
In April 2018, the Food and Drug Administration (FDA) proposed its Medical Device Safety Action Plan that laid out the agency's vision for changing how it, among other things, requires postmarket corrective actions. In the plan, FDA proposed using its authority under the "special controls" portion of the Medical Device Amendments of 1976 to promulgate a rule that gives the agency more comprehensive authority to require postmarket corrective action. Such an approach would fundamentally change the dynamic with regard to decision-making on when a recall or other corrective action is necessary.
It's also clear that FDA's view of the triggers for corrective actions is evolving rapidly. FDA is expecting more recalls in lower-risk situations.
FDA's expectations matter. While the agency relies upon "voluntary recalls" as the primary regulatory basis for postmarket corrective actions, FDA can strongly influence a manufacturer's decisions through threats of adverse media and public notices as well as enforcement actions.
For software that serves as a medical device, FDA also is now envisioning a more dynamic regulatory oversight that spans across the total product life cycle. In this new model that FDA calls its "precertification program," the company would continuously collect real-world evidence during the postmarket phase and continuously examine the need for recalls, product modifications, and new labeling. And FDA expects to be involved in those postmarket decisions.
In addition to proposing to change the agency's regulatory authority over recalls and other corrective action, FDA is developing the National Evaluation System for health Technology (NEST) to both more actively collect information on adverse events and other real-world evidence and disseminate information in the form of warnings to medical device users. In other words, the NEST program will be a two-way communication street. As a result, the new program will make it much easier for FDA to disseminate its own warnings regarding specific medical technology on its own initiative, making manufacturer cooperation less necessary.
In this webinar, we will both look at what the current process is for deciding when to recall a product and assess what the future holds.
Click here for more information and a full agenda on the webinar.
Have questions? Please email Lisa Blackburn, Director of Business Development, at lblackburn@ebglaw.com.