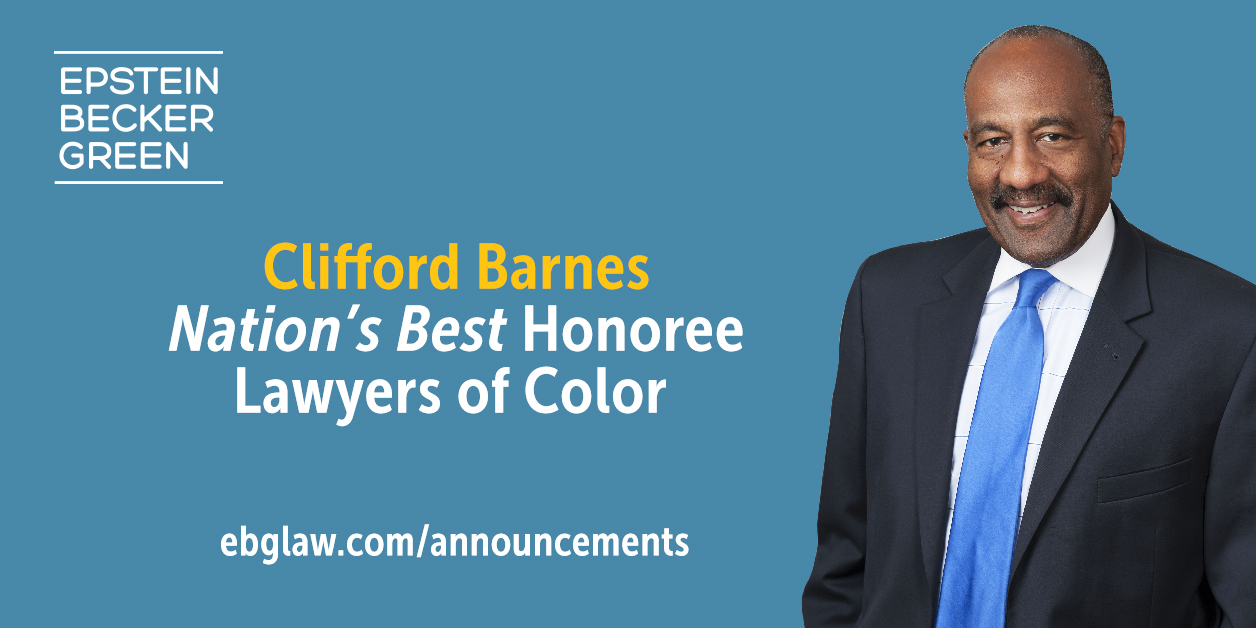 Washington, DC (June 12, 2019) – Epstein Becker Green (EBG) is proud to announce that Clifford E. Barnes has been named to Lawyers of Color's inaugural "Nation's Best" list. Mr. Barnes was recognized at a reception honoring the Nation's Best Mid-Atlantic Region honorees on June 11 in Washington, DC.
Mr. Barnes is a Member of the Firm in the Health Care and Life Sciences practice. He also serves as Co-Chair of the firm's Health Plan Compliance Group. Mr. Barnes has worked at EBG for more than 30 years and represents providers, including hospitals, hospital systems, nursing homes, home health, hospice, ancillary service companies; managed care companies concentrating in Medicare and Medicaid; and nonprofit associations. He is the Co-Founder of Medicaid Health Plans of America, Inc., and currently serves as Vice Chair of the Accountable Care Organization Task Force of the American Health Lawyers Association.
Lawyers of Color is a nonprofit devoted to promoting diversity in the legal profession and advancing diversity in the legal profession.
About Epstein Becker Green
Epstein Becker & Green, P.C., is a national law firm with a primary focus on health care and life sciences; employment, labor, and workforce management; and litigation and business disputes. Founded in 1973 as an industry-focused firm, Epstein Becker Green has decades of experience serving clients in health care, financial services, retail, hospitality, and technology, among other industries, representing entities from startups to Fortune 100 companies. Operating in offices throughout the U.S. and supporting clients in the U.S. and abroad, the firm's attorneys are committed to uncompromising client service and legal excellence. For more information, visit www.ebglaw.com.