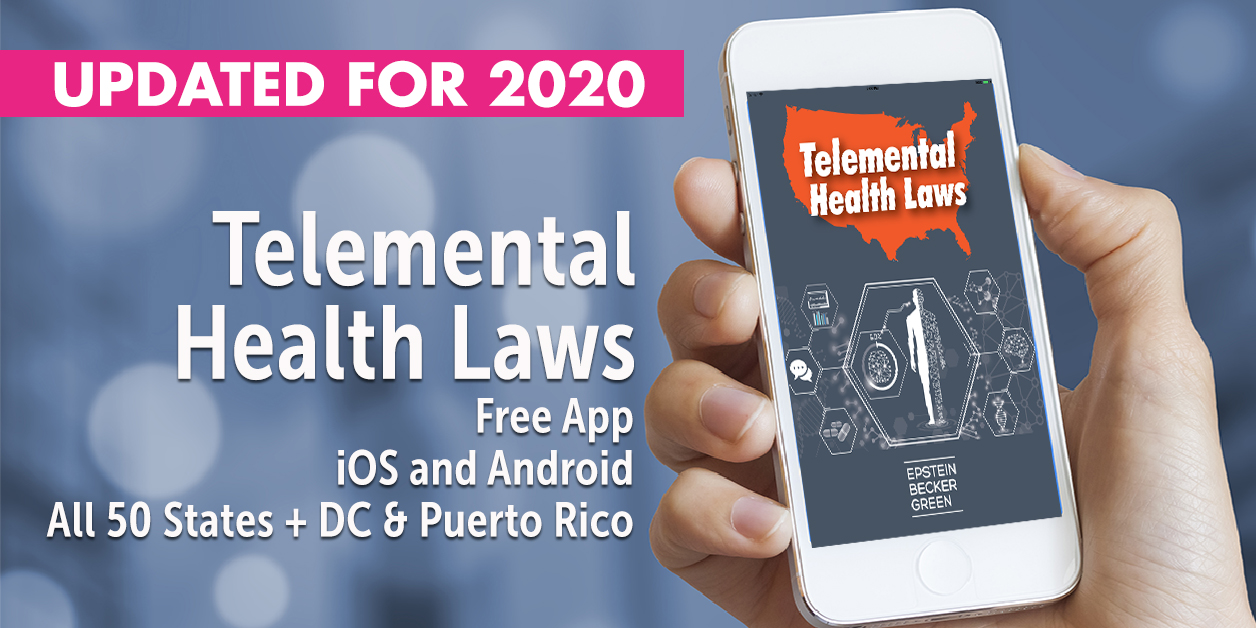 Legislators and Industry Leaders Must Learn to Navigate the Demand for Services in the Face of COVID-19 and the Need to Ensure Compliance
Washington, DC – October 20, 2020 – Across the country, telemental health services continue to see greater use, but with expansion and innovation comes more risk of fraud and need for enforcement, according to Epstein Becker Green's ("EBG") 2020 Telemental Health Laws survey (the "survey").
The release of this year's survey marks the firm's fifth year examining state telemental health laws, regulations, and policies within the mental health and behavioral health sectors. The survey's complete findings, which for the first time include details on telemental regulation in Puerto Rico, are available as an app for iPhone, iPad, and Android devices.
The COVID-19 pandemic has put pressure on lawmakers to increase access to telemental health services. But since increased use of telemental health creates the potential for fraud, providers should continue to monitor federal and state regulatory developments to capitalize on the growth of telemental health care while staying legally compliant.
Significant Acknowledgement of Fraud
As EBG reports, just last month, The U.S. Department of Justice ("DOJ") and the U.S. Department of Health and Human Services ("HHS") Office of Inspector General ("OIG") announced that the agencies had jointly charged 345 defendants across 51 judicial districts with allegedly submitting more than $4.5 billion in fraudulent claims tied to telehealth and "telefraud" in its 2020 National Health Care Fraud and Opioid Takedown (the "Takedown").
The Takedown shows that telemedicine is a government enforcement priority. Stakeholders must carefully navigate the complex regulatory regime that governs the delivery of telemedicine services, as the Takedown demonstrates that for telehealth providers compliance is a must-have as part of their operational infrastructure.
Telemental Health Progression
While expansion of health care services can invite questions, criticisms, and scrutiny, this year's edition closely examined the evolution of telemental health services accessibility and concluded that public recognition of the benefits of expanded access has increased.
Before the COVID-19 pandemic, telemental health care use was already trending upward. But thanks to the pandemic and supporting regulatory and policy changes, the barriers to access have been lowered even further, and providers continue to promote it as an efficient and effective way to deliver health care.
This year's momentum includes:
Professional Licensing: All states require physicians and other health care professionals to hold a valid license to practice, issued by the state's relevant professional board. In response to COVID-19, most states issued executive orders or emergency declarations calling for greater use of telehealth, but took different approaches to licensure questions. Some have waived requirements to get licenses entirely and others have merely eased them. States have also taken different approaches to whether these changes apply only to providing COVID-19-related services or can apply to health care services more generally.
Remote Prescribing: A growing number of states have evolved to allow what once was an in-person examination for non-controlled substances to proceed via telehealth instead. While states have long deferred to the federal Controlled Substance Act ("CSA") as far as remote prescription of controlled substances, in response to COVID-19 the federal Drug Enforcement Administration ("DEA") invoked a public health emergency exception to the CSA to allow for the remote prescribing of controlled substances under certain conditions. The DEA has temporarily waived its usual requirements for as long as HHS Secretary Alex Azar's January 27, 2020, designation of a public health emergency remains in effect.
Patient Data Privacy and Security: Half of states have data privacy laws, regulations, or guidance specific to the provision of telehealth services that go beyond federal and state privacy and confidentiality requirements in the practice of medicine. Nevertheless, the HHS Office for Civil Rights said it would exercise its enforcement discretion, and not impose penalties in connection with the good-faith provision of telehealth during the public health emergency.
"The changes we've seen in telemental health services this year could not have come at a more critical time for the industry." said Amy Lerman, a Member of Epstein Becker Green in the Health Care and Life Sciences practice. "As a result of COVID-19, patients who need remote care have more access than ever before. Legislators in all states and at the federal level must continue to work together to maintain efficient care for patients as well as preserve flexibility for providers."
The survey is authored by Ms. Lerman and other attorneys in the firm's Health Care and Life Sciences team: Alexis Boaz, Ashley Creech, Audrey Davis, Daniel Fahey, Priya Kaulich, Francesca Ozinal, Matthew Sprankle, and Bailey Wendzel. EBG 2020 Summer Associates Sanchita Bose, Spreeha Choudhury, Trena Riley, and Jessica Rivero also assisted with this project.
About Epstein Becker Green
Epstein Becker & Green, P.C., is a national law firm with a primary focus on health care and life sciences; employment, labor, and workforce management; and litigation and business disputes. Founded in 1973 as an industry-focused firm, Epstein Becker Green has decades of experience serving clients in health care, financial services, retail, hospitality, and technology, among other industries, representing entities from startups to Fortune 100 companies. Operating in locations throughout the United States and supporting domestic and multinational clients, the firm's attorneys are committed to uncompromising client service and legal excellence. For more information, visit www.ebglaw.com.