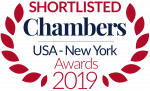 New York, NY (May 28, 2019) — Epstein Becker Green (EBG) is pleased to announce that the firm has been shortlisted for Labor & Employment Firm of the Year for the Chambers USA Awards – New York (previously the Chambers USA Awards for Excellence). 
According to Chambers, "These awards reflect recognized pre-eminence in key practice areas. They also reflect notable achievements over the past 12 months including outstanding work, impressive strategic growth, and excellence in client service." In all of its selections, Chambers takes into account feedback from its own researchers, our peer firms, and, perhaps most importantly, our clients when compiling rankings. Our inclusion on this list is an outstanding achievement as we have been working toward this recognition for quite some time.
The winner will be announced at an awards ceremony in New York on Wednesday, June 19.
Please click here for more information on our 2019 Chambers USA rankings.
About Epstein Becker Green
Epstein Becker & Green, P.C., is a national law firm with a primary focus on health care and life sciences; employment, labor, and workforce management; and litigation and business disputes. Founded in 1973 as an industry-focused firm, Epstein Becker Green has decades of experience serving clients in health care, financial services, retail, hospitality, and technology, among other industries, representing entities from startups to Fortune 100 companies. Operating in locations throughout the United States and supporting domestic and multinational clients, the firm's attorneys are committed to uncompromising client service and legal excellence.  For more information, visit www.ebglaw.com.