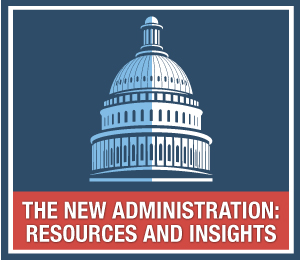 Epstein Becker Green is pleased to announce the launch of an information portal for its clients to track developments from the new administration's first 100 days: The New Administration: Resources and Insights. The Trump administration is expected to bring about changes to regulatory, legislative, and enforcement environments, which will greatly impact the business and compliance strategies of the firm's clients.
Utilizing its more than four decades of experience, Epstein Becker Green deploys critical problem-solving approaches for its clients in anticipation of, and in response to, those changes. The firm has embraced the challenges presented by past administrations and successfully navigated clients through the untested waters of reform and compliance. Our diverse team of attorneys, across multiple practices, provides clients with advice and guidance, along with comprehensive resources in dealing with Congress, federal agencies, state legislatures, and state agencies. Epstein Becker Green, once again, is well positioned to be the legal guide for companies of all sizes and from a wide range of industries facing the complex issues that may arise.
Please click here to learn more about potential changes by the Trump administration to the Affordable Care Act, the 21st Century Cures Act, and in the immigration, employment and labor, and employee benefits areas.