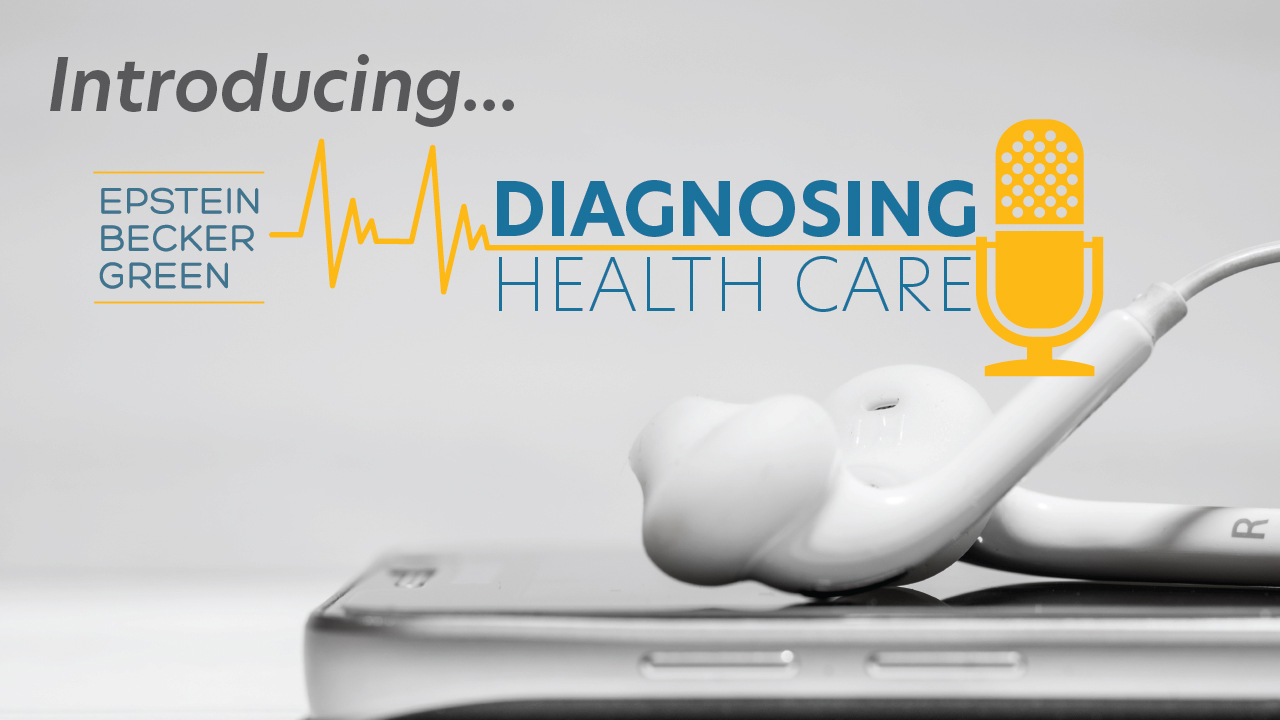 Washington, DC (July 9, 2020) – Epstein Becker Green (EBG) is excited to announce the launch of a new podcast, Diagnosing Health Care. The podcast will feature thought-provoking conversations about the high-stakes legal, policy, and regulatory issues the health care industry grapples with today. While these issues may seem like hurdles, the episodes will also look at the business opportunities and solutions that exist.
"The coronavirus pandemic has shown that, now more than ever, executives and general counsel need a clear understanding of how rapidly changing laws and regulations affect their business and operations, and Diagnosing Health Care is our newest way to deliver commentary about these important developments," said George Breen, chair of the firm's National Health Care and Life Sciences Practice Steering Committee. "While episodes will cover a broad range of topics, from privacy and security to value-based payment arrangements, our listeners can expect to hear actionable, real-world insights from the featured attorneys and guests."
The first two Diagnosing Health Care episodes will cover:
"Telehealth Flexibility: Key Regulatory Changes Impacting Providers During and Beyond the Coronavirus Pandemic," led by Megan Robertson and featuring guests Amy Lerman and Kevin Ryan, all attorneys at EBG (available now)
"The Impact of Revenue and Budget Shortfalls in Light of Coronavirus," led by Tim Murphy and featuring guests Colin McCulloch and Paul Gilbert, all attorneys at EBG (airs July 23)
Episodes will be led by a small group of rotating hosts and will feature EBG attorneys as well as industry leaders from across the health care field.
Diagnosing Health Care will air on the firm's website and on your preferred platform – Apple Podcasts, Google Podcasts, Overcast, Spotify, Stitcher, YouTube.
For your convenience, you can also receive email notifications about each episode by subscribing here.
About Epstein Becker Green
Epstein Becker & Green, P.C., is a national law firm with a primary focus on health care and life sciences; employment, labor, and workforce management; and litigation and business disputes. Founded in 1973 as an industry-focused firm, Epstein Becker Green has decades of experience serving clients in health care, financial services, retail, hospitality, and technology, among other industries, representing entities from startups to Fortune 100 companies. Operating in locations throughout the United States and supporting domestic and multinational clients, the firm's attorneys are committed to uncompromising client service and legal excellence.  For more information, visit www.ebglaw.com.