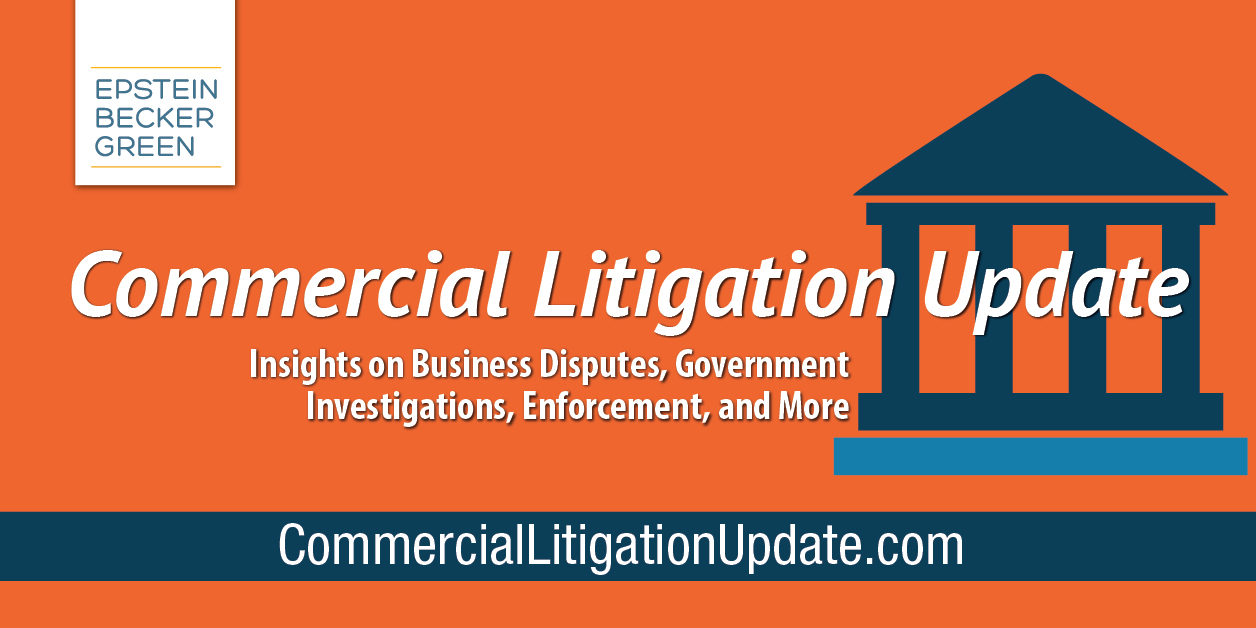 New York, NY (September 21, 2020) – Epstein Becker Green (EBG) is pleased to announce the launch of Commercial Litigation Update, a new litigation-centered blog that will offer engaging content about hot topics and trending news in the area of commercial litigation.
The Commercial Litigation Update blog is edited by EBG attorneys Thomas Kane, Brian Friedman, Melissa Jampol, and Robert Travisano. Along with Kane, Friedman, Jampol, and Travisano, contributors to the blog will include the EBG Litigation & Business Disputes team.
EBG's litigation attorneys will author posts about their experiences and provide insightful and practical commentary and analysis to clients and contacts on a wide range of timely litigation issues that affect businesses, including:
Rapidly evolving COVID-19-related legislative activity, such as new federal and state liability protections for businesses and compliance with eligibility requirements for federal aid programs
Noteworthy developments in insurance coverage and reinsurance disputes involving commercial policyholders
Trends and developments in antitrust, contract, defamation and product disparagement, white collar, fraud, Lanham Act, merger, partnership and shareholder, securities, unfair competition, and business tort litigation, among other areas
"Now more than ever, clients are always looking for insights by seasoned legal counsel," said Kenneth Kelly, Co-Chair of EBG's National Litigation Steering Committee. "When it comes to litigation, the stakes are often higher than usual, so clients need to be aware of the latest litigation developments that really matter. Commercial Litigation Update will be a dynamic resource for clients to stay informed of those developments."
"EBG has extensive experience litigating many of the issues that impact businesses across a wide range of industries. Our team of talented litigators looks forward to delivering compelling content to our clients and contacts through Commercial Litigation Update," said Anthony Argiropoulos, who also serves as a Co-Chair of EBG's National Litigation Steering Committee.
For complimentary email notifications of new posts, subscribe to Commercial Litigation Update. Also make sure to follow EBG on LinkedIn, Facebook, YouTube, Instagram, and Twitter for the latest updates.
About Epstein Becker Green
Epstein Becker & Green, P.C., is a national law firm with a primary focus on health care and life sciences; employment, labor, and workforce management; and litigation and business disputes. Founded in 1973 as an industry-focused firm, Epstein Becker Green has decades of experience serving clients in health care, financial services, retail, hospitality, and technology, among other industries, representing entities from startups to Fortune 100 companies. Operating in locations throughout the United States and supporting domestic and multinational clients, the firm's attorneys are committed to uncompromising client service and legal excellence.  For more information, visit www.ebglaw.com.