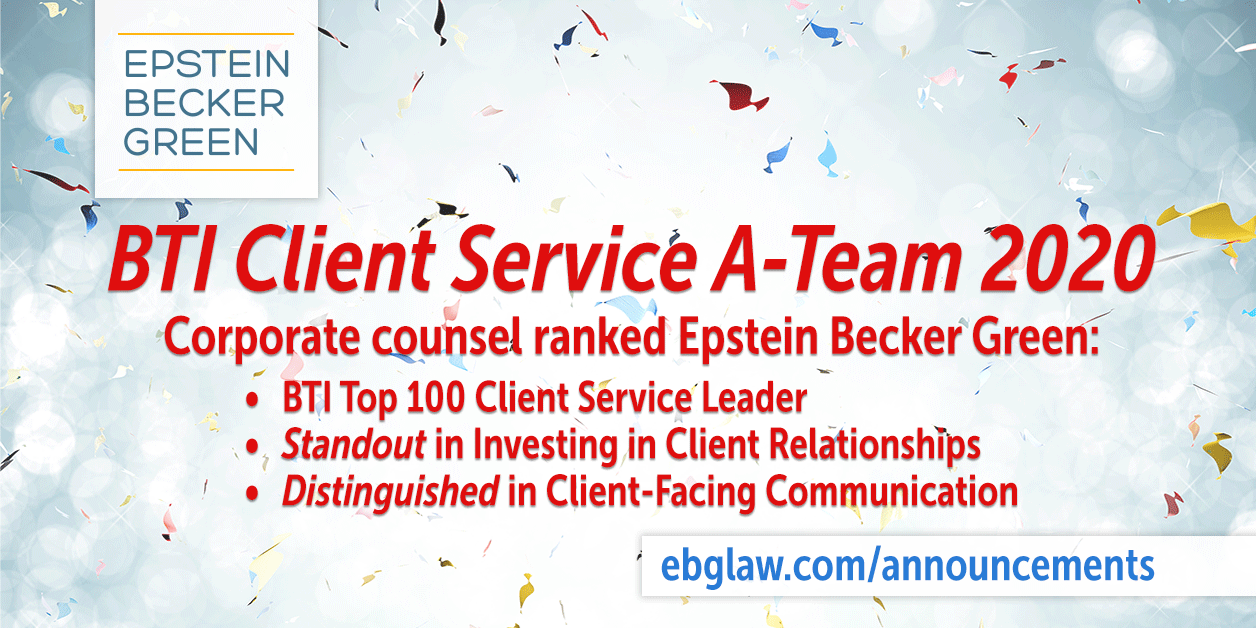 New York, NY (December 4, 2019) – Epstein Becker Green (EBG) is proud to announce that it has been recognized in the BTI Client Service A-Team 2020: The Survey of Law Firm Client Service Performance as a BTI Top 100 Client Service Leader. Additionally, BTI found that clients rank EBG as:
A Standout in Investing in Client Relationships
Distinguished in Client-Facing Communication
The Client Service A-Team report is derived solely from direct client feedback by more than 350 corporate counsels' in-depth interviews. BTI's research revealed that EBG is one of a select group of law firms to be "singled out—by name—by legal decision makers for their prowess in … driving superior client relationships."
"EBG is dedicated to providing a superior level of collaboration with, and advocacy for, our clients," said Mark Lutes, Chair of EBG's Board of Directors. "Understanding our clients' businesses is a tenet of the firm's Core Values and that understanding drives what and how we communicate. We are honored by this client feedback but will continue to invest in those relationships."
According to BTI, EBG has been recognized for providing "an outstanding and important aspect of client service." With the firm's "super boutique" focus and right-sized model, EBG is able to offer a hands-on approach to quickly and effectively solve client issues and provide thoughtful counsel and creative solutions.
For more information on BTI's methodology, please visit BTIConsulting.com.
About Epstein Becker Green
Epstein Becker & Green, P.C., is a national law firm with a primary focus on health care and life sciences; employment, labor, and workforce management; and litigation and business disputes. Founded in 1973 as an industry-focused firm, Epstein Becker Green has decades of experience serving clients in health care, financial services, retail, hospitality, and technology, among other industries, representing entities from startups to Fortune 100 companies. Operating in locations throughout the United States and supporting domestic and multinational clients, the firm's attorneys are committed to uncompromising client service and legal excellence.  For more information, visit www.ebglaw.com.