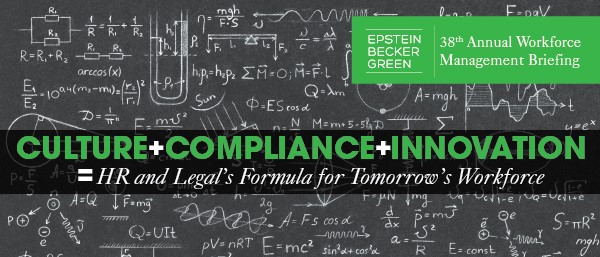 Join us as government officials, in-house employment counsel, human resources professionals, and Epstein Becker Green attorneys address the latest employment, labor, and workforce management developments and what they mean for your company and workforce.
This year's program will include in-depth panels providing best practices and valuable insight on a variety of important topics, including, among others, pay equity compliance, the #MeToo movement and the increase in anti-harassment requirements, and the effects of big data on employee privacy.
Presenters will include the Chairman of the National Labor Relations Board, the U.S. Assistant Attorney General for the Civil Rights Division of the U.S. Department of Justice, a Senior Attorney Advisor at the U.S. Equal Employment Opportunity Commission, as well as general counsel and human resources professionals from such companies as Credit Suisse, Deloitte, and McDonald's Corporation.
Workshop Topics Include
Business Impact of #MeToo
Diversity, Inclusion, and Unconscious Bias
Disability Accommodations
Trade Secrets
Big Data
Pay Equity
Marijuana and the Workplace
Innovative Employee Benefits
Successful Labor Negotiations
Wage and Hour Update
Ethics
Click here for workshop details and full briefing agenda.
Click here to request complimentary access to the Briefing presentations and materials.
For more information, contact Julie Choudhury at jchoudhury@ebglaw.com.
CLE Credit
Epstein Becker Green is an accredited provider of New York Continuing Legal Education (CLE) credit. This entire seminar has been approved for up to 6 hours of NY CLE credit, including a combination of credits in Professional Practice; Diversity, Inclusion and Elimination of Bias; and Ethics. Each program is transitional and appropriate for both newly admitted and experienced attorneys. In order to receive CLE credit, the registrant must be present for the entirety of each program and sign the affirmation form provided, indicating the programs that he or she attended. For questions on CLE for other states, please contact Karl Riehl.