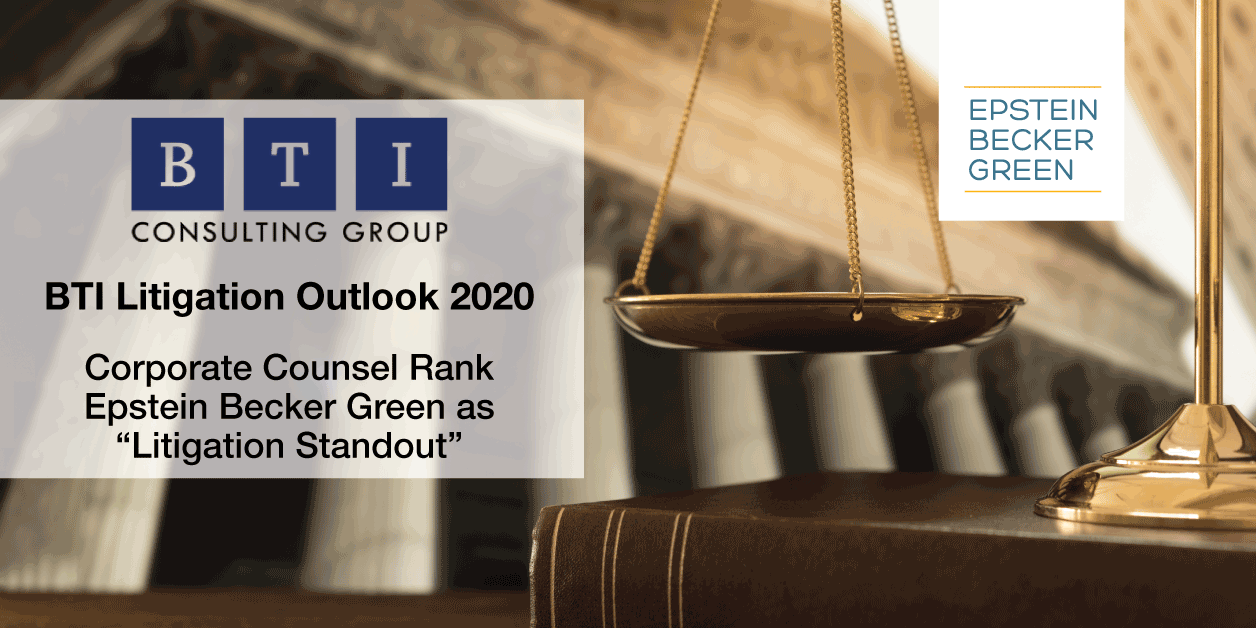 New York, NY (September 19, 2019) – Epstein Becker Green (EBG) is pleased to announce that it has received positive feedback by corporate counsel in the BTI Litigation Outlook 2020: Changes, Trends, and Opportunities for Law Firms report.
BTI Consulting Group, an independent research firm, based its findings on client feedback from top legal decision makers, such as heads of litigation, general counsel, and chief legal officers, at large organizations with $1 billion or more in revenue. After conducting more than 350 in-depth telephone interviews, BTI found that corporate counsel rank Epstein Becker Green:
A Litigation Standout in Employment Litigation – Among the Top 15 Firms
Member of the Honor Roll in Complex Employment Litigation
Through extensive research, the BTI Litigation Outlook report, now in its tenth year, discovered the following key takeaways: that "Clients are searching for law firms who understand risk, complexity, and financial exposure." Further, that "litigation is on a 3-year upward march," and that "this is one of the best opportunities to develop new clients." According to BTI, "Commercial Litigation is showing the biggest gains driven by disputes in supply chains, distribution agreements, and disputes arising from joint ventures and related business agreements. Employment Litigation is showing the 2nd biggest gains as wage and hour, discrimination, and equal pay suits gain more traction."
EBG's Litigation & Business Disputes practice is prepared to help clients navigate the coming year as these major segments of litigation are set to increase. The firm's highly skilled team includes former judges, U.S. Department of Justice civil and criminal prosecutors, appellate and trial court law clerks, and corporate counsel. EBG's litigators have extensive experience handling civil and criminal matters in federal and state trial and appellate courts; in arbitrations, mediations, and other alternative dispute resolution (ADR) forums; and before federal and state enforcement and regulatory agencies and various specialized federal bodies.
For more information on BTI's methodology or the report, please visit BTIConsulting.com.
About Epstein Becker Green
Epstein Becker & Green, P.C., is a national law firm with a primary focus on health care and life sciences; employment, labor, and workforce management; and litigation and business disputes. Founded in 1973 as an industry-focused firm, Epstein Becker Green has decades of experience serving clients in health care, financial services, retail, hospitality, and technology, among other industries, representing entities from startups to Fortune 100 companies. Operating in locations throughout the United States and supporting domestic and multinational clients, the firm's attorneys are committed to uncompromising client service and legal excellence.  For more information, visit www.ebglaw.com.