Physician Group Transactions 2020: Prospering in Health Care's Uncertain Future
Chicago, IL
University Club of Chicago
76 East Monroe Street
Chicago, IL 60603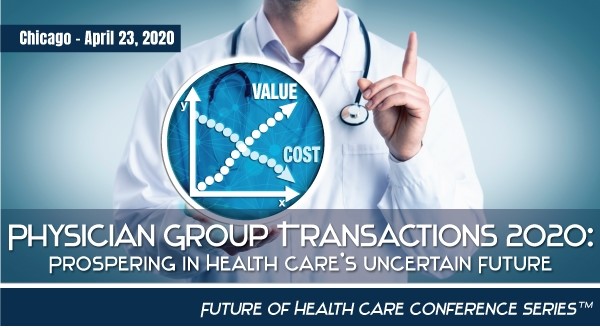 8:00 a.m. CT – 8:45 a.m. CT – Breakfast
9:00 a.m. CT – 4:30 p.m. CT – Programming
4:30 p.m. CT – 6:00 p.m. CT – Networking Reception
Transaction activity across the health care industry steadily increased throughout 2019. This momentum is expected to continue its robust upward trend throughout 2020 (an election year) and into 2021.
There is growing uncertainty regarding the future of the health care industry and, in particular, how the transformation that is well underway will impact physicians and physician groups. Thus, leaders of independent medical groups should be actively exploring various options to strategically position themselves for long-term success.
The Physician Group Transactions 2020 conference in Chicago will feature senior executives of major health care companies, private equity firms, as well as professionals experienced in advising physician groups.
Agenda - view the full agenda here:
The Changing Paradigm of Care Delivery, and Its Impact on Independent Physician Practices
Why Pivot? Hedging the Real Risks of Future Uncertainty
Strategic Options for Groups to Consider: Pros and Cons
Beyond the First Partnership – Second Bites and More
What Is the "Value" of My Physician Group?
The Transaction Process and Key Protections for Physicians
Who should attend?
This conference is a "must go" for any entrepreneurial physician practice that wants to understand cutting-edge changes in the marketplace and various strategic options for medical groups to both (i) "hedge" their risks of future uncertainty and, more importantly, (ii) maximize their enterprise value and the compensation earned by their physicians over the next several years.
Attendance for this complimentary one-day conference is limited to physicians and leaders of independent medical groups.
An optional Welcome Reception will be held from 7:00 p.m. to 9:00 p.m. on April 22, at The Gage, 24 South Michigan Avenue, Chicago, IL 60603.
For more information about attending, please contact Kristen Vetula at [email protected].
Related reading:
February 12, 2020: Becker's Spine Review, "Physician Group Transactions 2020 – 1-Day Conference to Take Place April 23 in Chicago," by Alan Condon.