Epstein Becker Green Attorney Yulian Shtern Recognized as a 2019 Cannabis Law Trailblazer by National Law Journal
April 1, 2019
Newark, NJ (April 1, 2019) – Epstein Becker Green (EBG) is pleased to announce that attorney Yulian Shtern has been recognized as a 2019 Cannabis Law Trailblazer by the National Law Journal.
As a special supplement to the National Law Journal, the Trailblazer series "spotlight[s] a handful of individuals from each practice area that are truly agents of change."
The profile of Mr. Shtern describes him as follows:
Pioneer Spirit: Yulian Shtern was focusing on health care law. "Once New York passed the Compassionate Care Act, I kept getting calls from doctors and others whose patients were asking for medical marijuana. That led me to more research, not just from a legal perspective, but a market perspective as well. The law touches on every sector and type of practice – bankruptcy, tax, criminal, regulatory and transactional. I thought it was a nice opportunity, so I pursued it."
Trails Blazed: Shtern has helped develop the firm's cannabis focus law practice group. He has also worked to educate the health care industry about medical marijuana. "I've helped put medical providers at ease and given a frame of reference for them with regard to medical marijuana." For example, Shtern created a supplement to a continuing medical education course. "The doctors were interested from a scientific and medical perspective but were worried about the legal aspects. So, we created the supplement." He also speaks and writes about medical marijuana, including at the CWCBExpo about medical cannabis law.
Future Explorations: Hopefully, federal decriminalization and sensible federal regulation will happen in the near future. "That will allow states to decide if they want to have a medical and/or recreational program. It will also relieve the burdens that medical marijuana companies have with tax consequences and banking issues." Once that happens, some consolidation will occur. "Once things clear up on the federal level, I can see publicly traded companies and investment firms getting involved, leading to M&A and consolidation." Currently, there are many labor and employment issues. "Employers are not sure what to do with employees who use medical or recreational marijuana. We'll see some litigation and perhaps new precedent. I also see the FDA getting more involved in regulating marijuana, as well as CBD and other hemp-derived cannabinoids."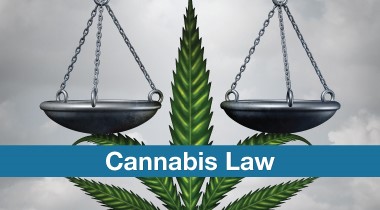 According the publication's Vice President and General Manager, Richard Caruso, "As the fight to legalize marijuana for medicinal and/or recreational use continues from state to state, it is no secret that attorneys are often in the middle of the fight. In the states that have already legalized it, there are new issues arising daily from how to run the business financially to how to license a company's new products."
Mr. Shtern is an Associate in the Health Care and Life Sciences practice, in the Newark office of Epstein Becker Green. Mr. Shtern's practice focuses on representing clients in health care transactional, corporate, and regulatory matters. His clients include a broad range of health care providers, such as adult care facilities, ambulatory surgery centers, ambulette and ambulance service providers, dialysis facilities, health systems, home health agencies, hospitals, long-term care facilities, and private equity and other health care investors.
About Epstein Becker Green
Epstein Becker & Green, P.C., is a national law firm with a primary focus on health care and life sciences; employment, labor, and workforce management; and litigation and business disputes. Founded in 1973 as an industry-focused firm, Epstein Becker Green has decades of experience serving clients in health care, financial services, retail, hospitality, and technology, among other industries, representing entities from startups to Fortune 100 companies. Operating in locations throughout the United States and supporting domestic and multinational clients, the firm's attorneys are committed to uncompromising client service and legal excellence. For more information, visit www.ebglaw.com.