Epstein Becker Green Attorney Jennifer Gefsky Authors Book, Your Turn: Careers, Kids, and Comebacks—A Working Mother's Guide
October 1, 2019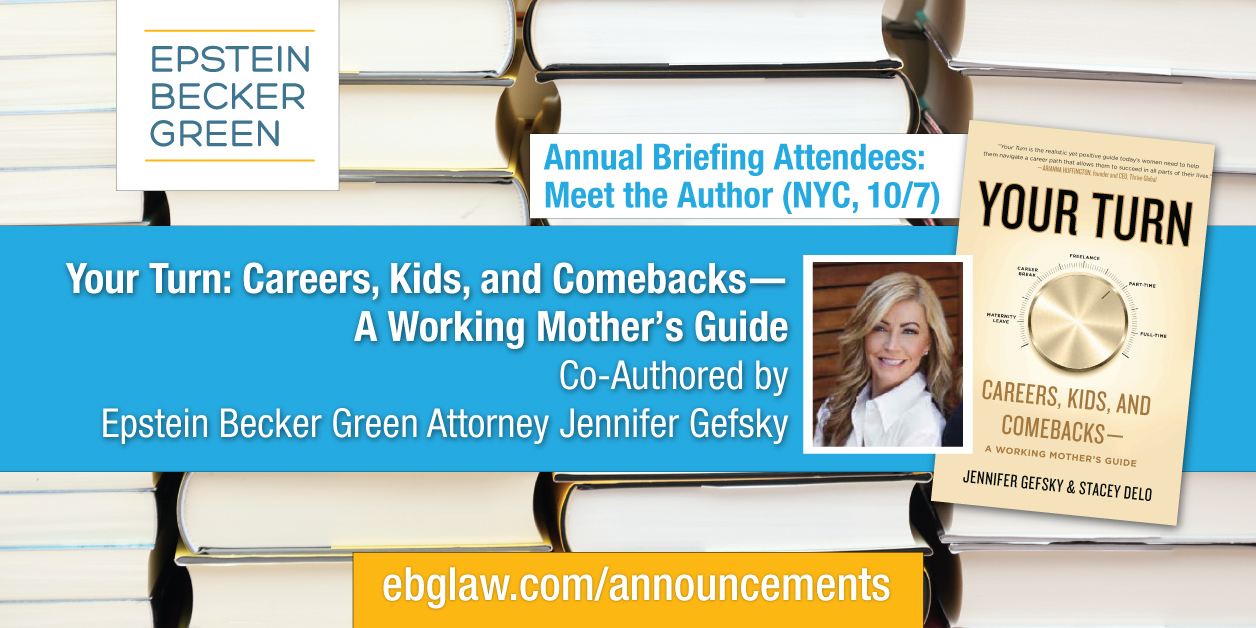 New York, NY (October 1, 2019) – Epstein Becker Green is pleased to congratulate Jennifer Gefsky, Member of the Firm, on the launch of her book, Your Turn: Careers, Kids, and Comebacks—A Working Mother's Guide, co-authored with Stacey Delo and published by HarperCollins.
"For those who have decided to step away from the corporate world, whether it's for one year or 20, we show you how to stay current and how to pivot to something more meaningful when your old job doesn't exist anymore or you simply want a change," says Gefsky. "We hope that Your Turn provides a clear roadmap for how to navigate key work + life transition points." Your Turn is also the story of how companies can attract and retain women talent during the "Messy Middle" and beyond, with a prescription for best practices throughout the book.
As a firm, Epstein Becker Green is committed to "giving our staff members the platform to expand and improve their professional standing and skills while allowing for the freedom to thrive in a family-friendly environment that provides flexibility, variety, and a culture of promoting advancement opportunities." These values are affirmed in Epstein Becker Green's Values Commitment.
Ms. Gefsky praised Epstein Becker Green's supportive environment with the following acknowledgment in Your Turn: "I would also like to thank Epstein Becker Green for creating a culture where female lawyers (many of whom also happen to be mothers) are supported and therefore able to succeed, both at work and at home."
Your Turn has received extensive early praise. Hardcover, digital, and audiobook selections are available at bookstores and online at Barnes & Noble and Amazon. For a full list of retailers, please visit YourTurnBook.com.
About Ms. Gefsky
Jennifer Gefsky is a Member of the Firm in the Employment, Labor & Workforce Management practice, in the New York office of Epstein Becker Green. Her practice covers labor and employment matters in a practical manner tailored to each client according to its unique business, culture, and circumstances.
Before joining Epstein Becker Green, Ms. Gefsky was Vice President and Deputy General Counsel of Major League Baseball (MLB), where, among other things, she advised MLB's commissioner on all matters relating to players and umpires and participated in collective bargaining agreement negotiations. She was also Co-Founder, CEO, and General Counsel of a digital recruiting and marketing platform that connects high-caliber women who have taken career breaks with companies that are seeking talent and diversity. Ms. Gefsky began her career as an attorney at an international law firm, where she practiced labor and employment law and worked in the firm's sports practice.
About Epstein Becker Green
Epstein Becker & Green, P.C., is a national law firm with a primary focus on health care and life sciences; employment, labor, and workforce management; and litigation and business disputes. Founded in 1973 as an industry-focused firm, Epstein Becker Green has decades of experience serving clients in health care, financial services, retail, hospitality, and technology, among other industries, representing entities from startups to Fortune 100 companies. Operating in offices throughout the U.S. and supporting clients in the U.S. and abroad, the firm's attorneys are committed to uncompromising client service and legal excellence. For more information, visit www.ebglaw.com.