Hurricanes Relief Fundraiser Event: Consulate General of France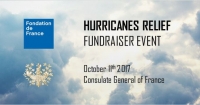 New York, NY
Consulat général de France
934 Fifth Avenue
New York, 10021
Pierre Georges Bonnefil, Member of the Firm, is helping to organize a "Hurricanes Relief Fundraiser Event" hosted by Ms. Anne-Claire Legendre, Consul General of France, at the Consulate General of France, in New York.
The fundraiser features food, wine, and music, plus silent auctions to raise funds for Dominica, St. Barthelemy, St. Martin, and Haiti.
All proceeds will be donated to the "Fondation de France" program to support those affected by hurricanes that hit the Caribbean islands.
For more information, visit the Consulate's event page.