Diversity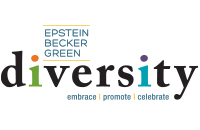 At Epstein Becker Green, we know that our clients are best served through innovation and creativity. We believe that the surest way to generate great ideas to fuel innovation is through a diversity of opinions, backgrounds, and experiences.
Since its founding in 1973, Epstein Becker Green has been committed to maintaining a diverse workforce and an environment in which all attorneys and staff members can develop to their fullest potential. We foster a work culture that promotes diversity within recruiting, professional development, and ongoing communications. While cultivating our diverse workforce is a process that is always evolving, statistics reflect our achievements to date (e.g., 28 percent of firm members and 40 percent of firm attorneys are women, and minorities make up 33 percent of the entire firm). In addition, women and/or minority firm members are represented at all leadership levels—on our board of directors, in our senior management, and on all board committees. We continually evaluate and adapt our efforts to increase and promote diversity at all levels within the firm, the legal profession and our communities.
Epstein Becker Green is acutely aware that there are still a disproportionately small number of minority attorneys represented in the legal profession. In our largely successful effort to deal with this challenge while growing the firm, we have relied heavily on the lateral recruitment of associates and members, including recruiting members from nontraditional backgrounds for firms our size—such as corporations, government agencies, and the judiciary. We have partnered with our clients through the 1L Pipeline and Summer Associate Programs. In addition to a strong mentoring program, the firm has two affinity groups that are focused on minority attorneys: the Minority Attorneys Forum and the LGBT Outreach Group. Both the Minority Attorneys Forum and the LGBT Outreach Group facilitate relationship-building among its members and provide a forum in which attorneys can focus on mentorship, networking, recruitment, retention, business development, and client outreach.
Additionally, Epstein Becker Green recognizes the importance of women attorneys and continually strives to increase the number of women attorneys at the firm and to promote their advancement. To this end, the firm provides flexible work arrangements and a generous Child Care Leave Program that supports married as well as same—and opposite—sex domestic partner couples in both primary and non-primary caregiver roles. We have also implemented recruiting programs that celebrate and emphasize gender diversity within the firm, such as the Women's Initiative of Epstein Becker Green.
The firm also strives to advance the careers of women in business and professional communities. For instance, Epstein Becker Green is a founding sponsor of the Women Business Leaders of the U.S. Health Care Industry Foundation ("WBL"), an organization whose goal is to help senior executive women from across the health care industry create meaningful cross-sector relationships, expand their leadership, and harness their collective power to improve the industry.
Other Events, Organizations, and Programs That We Support
Epstein Becker Green and its attorneys actively support numerous events, organizations, and programs that advance equal justice and equal opportunity in our society. For example:
In 2017, Epstein Becker Green became a signatory to the Equal Representation in Arbitration Pledge as a commitment to involving more women in arbitration, whether that be to include them on panels, select them as arbitrators, or provide our female attorneys with more arbitration experience.
Epstein Becker Green is a member of FAN, the Firm Affiliate Network, an initiative launched by the Minority Corporate Counsel Association to assist and acknowledge law firms that are committed to advancing diversity in the legal profession.
We regularly sponsor programs of the Minority Corporate Counsel Association, the NAACP Legal Defense and Education Fund, the Asian American Legal Defense and Education Fund, Latino Justice PRLDEF, Street Law, National Employment Law Council and other similar organizations.
Epstein Becker Green holds dinners and/or receptions around the country hosted by the firm's minority attorneys and founding shareholders to celebrate the achievements of minority corporate counsel. These events have featured prominent minority attorneys, judges, and bar leaders as keynote speakers, and provided networking opportunities for diverse in-house attorneys, as well as for the firm's founders and other leaders, many of whom are, themselves, diverse.
Our firm is a member of the Advisory Board of the Northeast Chapter of the United States-Mexico Chamber of Commerce. The organization promotes business between the United States and Mexico and helps companies bridge differences in legal, regulatory, and economic systems, as well as in language and culture.
Epstein Becker Green Co-Founder Steven Epstein fostered the creation and growth of the Institute for Responsible Citizenship, which conducts a national internship program for African-American college men. The Institute is housed in Epstein Becker Green's Washington, DC, office. Mr. Epstein also serves on the Board of Directors of Street Law, a practical participatory education program that teaches young people in inner city high schools about law, democracy, and human rights. Street Law raises much of its funding through its Annual Gala, to which the firm contributes its organizational and financial support.
Member Kenneth G. Standard is Chair Emeritus of the firm's Diversity and Professional Development Committee. He is a past president of the New York State Bar Association ("NYSBA") and has long worked to increase diversity in the legal profession. He currently co-chairs NYSBA's Committee on Diversity & Inclusion, which, among other things, has carried on the work he began in 2005 as Co-Chair of its Committee on Outreach to Youth. In recognition of his efforts, the Corporate Counsel Section of NYSBA created the Kenneth G. Standard Minority Internship program, which places minority law students in corporate legal departments during the summer between their second and third years of law school. He was presented with the American Bar Association's Alexander Award for Lifetime Achievement in Pipeline Diversity in February 2011 for his work to increase diversity in the legal profession. He was awarded the 2017 Spirit of Excellence Award by the American Bar Association for his commitment to racial and ethnic diversity in the field of law.
At the suggestion of Member David E. Matyas, the American Health Lawyers Association ("AHLA") established an Advisory Council on Racial and Ethnic Diversity, which hosts diversity events at AHLA conferences and a minority law student internship program, among other activities.
Epstein Becker Green sponsors programs for the Health Law Society at Howard University. The Health Law Society was formed in 2016 by a group of law students who wanted to provide (i) a platform centered around health law issues, (ii) exposure to the field, and (iii) opportunities for students interested in studying and pursuing careers in health law.
We will continue these efforts and seek to partner with clients, bar associations, and community organizations to make our society and our profession fully inclusive.
View Less
Read More
Diversity Accolades
Recognized as a top firm on Vault's "2018 Best Law Firms for Women" list, ranking 15th. Vault, a career information website, based its findings on feedback from associates on diversity issues.
Received a high rating in the Human Rights Campaign's Corporate Equality Index, an annual report assessing lesbian, gay, bisexual, and transgender inclusion in major companies and law firms across the nation.
Recognized in Law360's "Glass Ceiling Report" as one of the best law firms for female attorneys, and considered to be among those "outpacing their peers ... moving the industry toward a more inclusive status quo." The firm ranked number 10 in the category of firms with 150-299 lawyers, among more than 300 firms surveyed.
Named by Working Mother + Flextime Lawyers among the "50 Best Law Firms for Women" for 2015, for excellence in the areas of representation, flexibility, leadership, compensation, and advancement of women, as well as development and retention of women.
Kenneth G. Standard, Chair Emeritus of EBG's Diversity & Professional Development Committee, speaks to the importance of creating an inclusive environment. Click above or watch via YouTube, Vimeo, MP4, or WMV.
Profiles in Diversity
Epstein Becker Green profiled three attorneys who have been with the firm for more than 30 years and have dedicated their professional careers to fostering an environment that values diversity and inclusion for all people. Their profiles provide insight on why they chose to be an attorney and stayed at Epstein Becker Green as well as offer advice to attorneys who are starting their legal career.
Diversity Report
Please reference the 2017 Diversity & Inclusion Report posted here that highlights the firm's initiatives and national platform toward fostering a culture that promotes diversity and inclusion for all.