Annual Diversity Reception
Epstein Becker Green has been hosting annual diversity celebrations for more than 10 years. In 2013, Epstein Becker Green created the "Make a Difference" Award as a way to acknowledge and honor those individuals who, through their outstanding commitment, dedication, and abilities, have made a difference in the advancement of diversity and inclusion. The "Make a Difference" Award is presented each October at Epstein Becker Green's Diversity Reception.
Prior "Make a Difference" Award recipients include:
2020 Honorees
Carrie Valiant, Clifford Barnes, and Susan Gross Sholinsky are the Chair and Vice Chairs of Epstein Becker Green's Diversity and Professional Development Committee, respectively, roles in which they serve as leaders and advocates for diversity, equity, and inclusion. Thalia Bowen, Diversity Manager, and Amy Simmons, Director of Attorney Recruitment & Professional Development, are the primary professional support members of the Committee, and are key resources for organizing and facilitating all aspects of diversity initiatives at the firm. We thank each of them, individually and collectively, for their efforts around diversity awareness and on behalf of the firm, including leading and moderating several town hall and other discussions focused on justice and the successful celebration of this year's Diversity Awareness Month marked by care, consideration, and respect for others.
2019 Honoree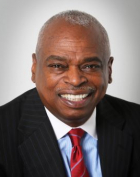 Wade Henderson is the former President of The Leadership Conference on Civil and Human Rights ("The Leadership Conference"), where he served for 20 years, from 1996 to 2016, as the head of The Leadership Conference and as counsel to The Leadership Conference Education Fund. Mr. Henderson joined The Leadership Conference—then known as "The Leadership Conference on Civil Rights"—in 1996. Under his leadership, the coalition has grown from 170 to more than 230 member organizations (including its first Muslim and Sikh civil rights groups)—and from a staff of seven to 50—adding development, field, and communications departments, as well as the Americans for Financial Reform project. More about the reception.
2018 Honoree
Christine Quinn is the President and Chief Executive Officer of Win (formerly Women in Need), the largest nonprofit dedicated to providing homeless women and children with shelter and access to supportive housing in New York. Prior to becoming President and CEO, she served as Special Advisor to Governor Andrew Cuomo, focusing on women's issues across New York State, and led the effort to pass legislation to stop rape and sexual assaults on college campuses. Quinn served as a member of the New York City Council from 1999-2013 and served for seven years as the elected Speaker of the Council, making her the first woman and the first openly gay Speaker, as well as the highest-ranking openly gay official in City history. More about the reception.
2017 Honoree
Eric T. Washington, Retired Chief Judge of the District of Columbia Court of Appeals. Chief Judge Washington has been a strong advocate for expanding access to legal representation for all people. He worked with the DC Access to Justice Commission to increase attorney access for low- and middle-income DC residents and to also expand access to interpreter services for those with limited English proficiency. More about the reception.
2016 Honoree
Laurie Robinson Haden, Senior Vice President and Assistant General Counsel of CBS Corporation. In addition to her role at CBS Corporation, Ms. Robinson Haden is the Founder and CEO of Corporate Counsel Women of Color, a nonprofit professional organization, which she created in 2004 to advance women of color attorneys and to foster diversity in the legal profession. Under her leadership, the organization has grown to more than 2,900 members. More about the reception.
2015 Honoree
William A. Keyes, IV, Founder and President of the Institute for Responsible Citizenship ("Institute"). The Institute is an intensive leadership program for America's best and brightest African-American male college students. The Institute's mission is to prepare men to be exemplary citizens and leaders by inspiring them to pursue extraordinary career success not simply for their personal benefit but as a platform from which they can serve others. More about the reception.
2014 Honoree
Kenneth G. Standard, General Counsel Emeritus and Of Counsel at Epstein Becker Green. Mr. Standard has demonstrated a lifetime commitment to diversity through his efforts to make the legal profession more equitable and more reflective of the country's diverse population. More about the reception.
2013 Honoree
Shirley Ann Higuchi, Esq., Assistant Executive Director at American Psychological Association Legal and Regulatory Affairs, Chair of the Heart Mountain Wyoming Foundation ("Foundation"), and Past President of the District of Columbia Bar. The Foundation educates the public on the experiences of the Japanese Americans wrongly incarcerated during World War II. More about the reception.