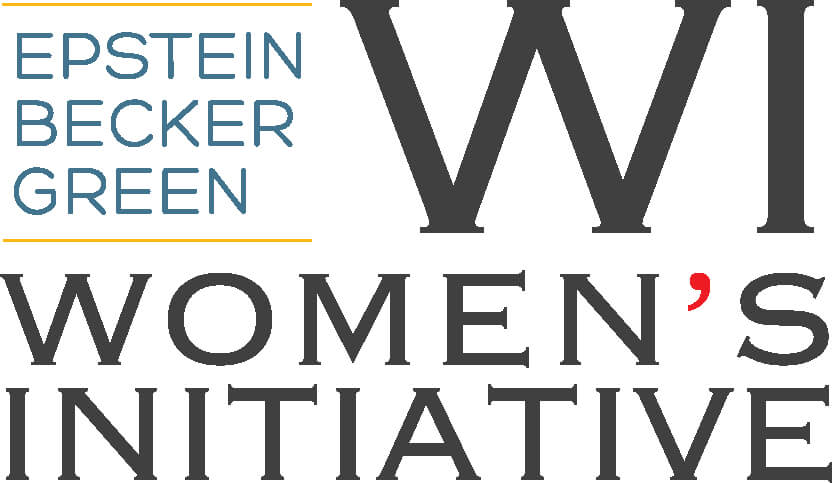 By providing unique opportunities inside and outside the office to network, share information, acquire new skills, and develop rewarding professional relationships, the Women's Initiative endeavors to enhance the careers of professional women.
Since our founding in 1973, we have been committed to diversity at all levels of the firm, including supporting women and minority attorneys within our national footprint and throughout the U.S. legal profession. In furtherance of this commitment, and recognizing the importance of women to business and professional communities, EBG launched the Women's Initiative in 2002, one of the first of its kind. We have continued to build on this commitment by increasing the number of women and minority attorneys in the firm, increasing women's representation among the equity partnership and leadership ranks, and supporting women in their professional growth.
We understand that the way to retain women is to focus on promoting women through investing in their careers, including business development training, networking, and making available key client opportunities. At EBG, we celebrate and emphasize gender diversity within the firm as part of our Core Values.
EBG is also a founding sponsor of the Women Business Leaders of the U.S. Health Care Industry Foundation, an organization whose goal is to help senior executive women from across the health care industry create meaningful cross-sector relationships, expand their leadership, and harness their collective power to improve the industry.
A Place Where Working Moms Can Achieve Real Work-Life Balance
EBG has created an environment in which working mothers can achieve a work-life balance while also offering ample opportunities to advance their careers and attain leadership positions. On more than one occasion, we have been recognized as a Top 50 "Best Law Firm for Women" by Seramount (formerly Working Mother Media) for excellence in the areas of representation, flexibility, leadership, compensation, advancement, as well as development and retention of women.
In addition to the collective support they receive from the Women's Initiative community, working mothers at EBG are provided assistance and guidance through virtual programs and events, as well as a Back-Up Care Program which offers care services for family members of all ages (from infants through elders, including adults and children with special needs). Our firm's family friendly policies, robust career and business development initiatives, and our overarching culture of support and inclusion allows the women of EBG to truly balance both work and home life.
We Strive to Set the Bar
We are proud that our efforts continue to be recognized by others. For example, we received the Diversity & Flexibility Alliance 2020 "Tipping the Scales" award for the second year in a row in recognition of promoting 50% or more women to partner in the most recent class. We ranked as a Top 3 law firm for female attorneys in Law360's 2021 "Glass Ceiling Report" and Vault's 2019 "Best Law Firms for Diversity – Diversity for Women" list.
Programming Tailored to Development and Growth
In our efforts to recruit and retain talented women attorneys, the Women's Initiative provides internal training and external programming opportunities to grow personally and professionally—developing critically needed hard and soft skills through mentorship, coaching, and sponsorship.
From panel and roundtable discussions to book clubs and wellness activities, we regularly host events that educate, entertain, and facilitate networking with other women professionals. Our events have included golf clinics, media skills workshops, fashion events, art exhibitions, cooking experiences, and wine tastings, among others. Our guest lecturers have included highly accomplished and regarded women leaders, innovators, authors, and entrepreneurs.
Past Speakers
Laura Vanderkam, author and t

ime management coach

Laurie Cameron, author and mindfulness expert, and Founder of PurposeBlue
Randi Zuckerberg, entrepreneur, bestselling author, and Founder and CEO of Zuckerberg Media
Marsha Redmon, a former practicing lawyer and television journalist
Julie Morgenstern, New York Times bestselling author
Janice Marturano, Founder and Executive Director of the Institute for Mindful Leadership
Sandra Leung, General Counsel and Corporate Secretary of global biopharmaceutical company Bristol-Myers Squibb
Amy Ellis Nutt, a Pulitzer Prize-winning journalist
Victoria Medvec, Ph.D., Executive Director of the Center for Executive Women at the Kellogg School of Management at Northwestern University
Marianne J. Legato, M.D., F.A.C.P., Founder and Director of the Partnership for Gender-Specific Medicine at Columbia University, and an internationally recognized specialist and author
Patricia Roos, Ph.D., Professor of Sociology and Co-Director of the Center for Women and Work at Rutgers University
Hear from Our People
"We get to meet with and network with our clients and potential clients, and it is a really good way for our junior female attorneys to learn that skill."

— Susan Gross Sholinsky

"Every day is a little bit different. I try not to stick too much to one routine or schedule because that's hard both with the practice of law as well as having small children at home."

— Amy Lerman

"One of my proudest moments at Epstein Becker Green was when I got the call that I had been promoted from Senior Associate to Member of the Firm."

— Victoria Sloan Lin

"It's been an incredible place to learn how to become a lawyer. … When you're starting out as a Junior Associate, you are really getting to learn from all of the experts."

— Nancy Gunzenhauser Popper
Many of the firm's women attorneys have been with the firm for their entire careers, moving up the ranks from first-year associates to key Members of the Firm and on the Board of Directors.
Read More First-Hand Accounts of Our Women Attorneys' Experiences at EBG
"I have been at EBG for over ten years, and I have been able to work remotely from my home office for eight of those years. I started my family during my employment with EBG and the flexibility in my schedule has allowed me time to spend with my daughter in the evenings. It has also allowed me to participate in my daughter's school and after-school activities when they arise, while still feeling like I am a valued member of the firm. When I was expecting my second child, I received nothing but positive encouragement and support from the firm's leadership and my colleagues at the firm. Rather than seeing my maternity leave as a burden or a hindrance to my advancement at the firm, the firm's leadership has inspired me to be forward-thinking about how the health care landscape will be changing over the next few months and how to position myself accordingly when I return to work. I think this is what makes EBG a truly "family-friendly" firm – not only is the firm's culture centered around diversity, inclusiveness, and flexibility, but the firm also fosters a culture where attorneys are encouraged to find their own path to a successful and rewarding law firm career based on what works best for them."

Lesley Yeung, Member of the Firm in the Health Care & Life Sciences practice.
"I was hired by EBG as an associate when my twins were only 8 months old. Prior to taking the position at EBG, I worked for the federal government for 8 years. I was hesitant about making the transition from public service to private practice due to the age of my children and awareness that I was leaving a job that was flexible to working mothers, but discussions with female attorneys while I was interviewing made me feel confident that I could achieve a work-life balance. I am happy to say that my fears were unfounded and my transition as an attorney at EBG has been seamless. The partners at the firm really emphasize a work-life balance and at the same time help attorneys achieve professional growth. I find that the firm is more flexible than my time at the federal government. Coming in late or working from home due to doctor's appointments, day-care activities, or scheduling conflicts with my husband has never been an issue. The ability to log on from home after hours has provided me the chance to meet client expectations, meet deadlines, and grow professionally while still being present in my family. Additionally, the firm offers an environment that fosters growth for people of color. The work you get is on par with that of your colleagues who are not diverse."

Cassandra Labbees, Member of the Firm in the Employment, Labor & Workforce Management practice
"When I started talking to folks at EBG about coming in as a lateral partner, and during that process, I was very (pleasantly) surprised to learn about the high number of women attorneys at the Firm, especially at the board and practice group leadership levels. As I completed several years as an equity shareholder of the Firm, I am happy to report that I know I made the right decision to come to EBG. Not only does the Firm have an excellent reputation, the Firm genuinely cares about enhancing and nurturing that reputation by bringing in and keeping talented lawyers, whether male, female or diverse. The Firm is flexible and willing to work with its women attorneys and their work schedules so that our women attorneys don't feel like they are being "punished" for seeking a part-time schedule. At EBG, the leadership recognized many years ago that by being flexible, women attorneys can contribute tremendously to the firm on many levels and I see the result of that decision today in the many talented women lawyers in the various practice groups (many of whom have helped me with expanding the breadth and depth of my practice and client base), as well as in the firm's top originators and in the firm's leadership. As a full-time working mother of twins, I have personally experienced and now see at EBG how, by working together on alternate work schedules, there is a "win-win" for both the firm and its women lawyers. From the firm's perspective, the investment in the attorney is protected by keeping the attorney happy and engendering loyalty. From the attorney's perspective, she is able to balance work and home life commitments while having the opportunity to grow professionally both within and outside the firm."

Anjana Patel, Member of the Firm in the Health Care & Life Sciences practice
"I have been at EBG for my entire career and the experience has been incredibly rewarding in so many ways. Many wonder how I am able to balance a challenging career with the constant needs of a family. The simple answer is that EBG has always respected and valued a work-life balance that gives individuals the freedom to be successful in many aspects of life."

Diana Costantino Gomprecht, Member the Firm in the Litigation & Business Disputes and Employment, Labor & Workforce Management practices.
Women's Initiative Contacts/Committee
Diversity Manager

202-861-1855

tbowen@ebglaw.com

Board of Directors / Member of the Firm

212-351-4789

sgross@ebglaw.com
Women's Initiative Executive Committee Members
Deborah DeHart Cannavino, Member of the Firm in the Employment, Labor & Workforce Management practice—Stamford
Denise Merna Dadika, Member of the Firm in the Employment, Labor & Workforce Management practice—Newark
Anjali N.C. Downs, Member of the Firm in the Health Care & Life Sciences practice—Washington, DC
Frances M. Green

, Of Counsel in the Employment, Labor & Workforce Management practice—New York

Wendy G. Marcari, Member of the Firm in the Corporate Services and Health Care & Life Sciences practices—New York
Maxine Neuhauser, Member of the Firm in the Employment, Labor & Workforce Management practice—Newark
Susan Gross Sholinsky, Member of the Firm in the Employment, Labor & Workforce Management practice—New York
Lauri F. Rasnick¸

Member of the Firm in the Employment, Labor & Workforce Management practice—New York

Anjana D. Patel, Member of the Firm in the Health Care & Life Sciences practice—Newark